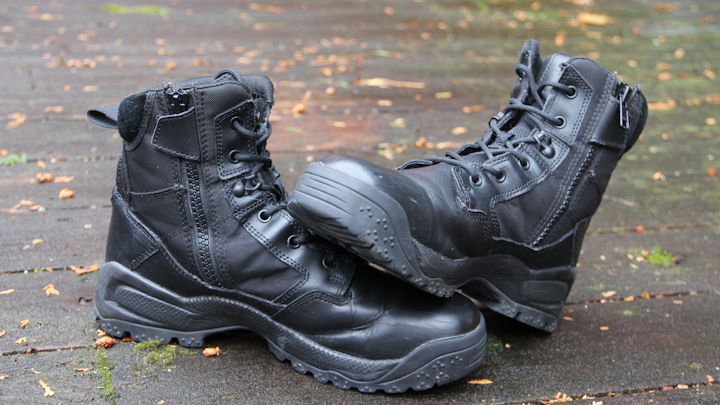 I took a tour of 5.11 Inc.'s booth during SHOT Show 2019. They had a ton of new products announced and they're building a strong base of consumer recognition with sponsoring a range of items like fitness events, warrior recognition programs as well as inclusion in some AAA video games. I'm sure their SHOT Show 2020 booth this year will be no different. I was provided three items to review: their ATAC 2.0 6-inch side zip boot, the ABR Pro Pant, and the AMP LV10 Sling Pack bag. 
Without personal law enforcement experience, I wanted to put these items to test to the best of my realistic ability—not by running them through some rugged terrain but by just wearing them as often as I could to judge comfort and general practicality. Straight up, I lived in these on a regular basis for over six months. All three stand up to regular life amazingly well.
The ATAC 2.0 6" Side Zip Boot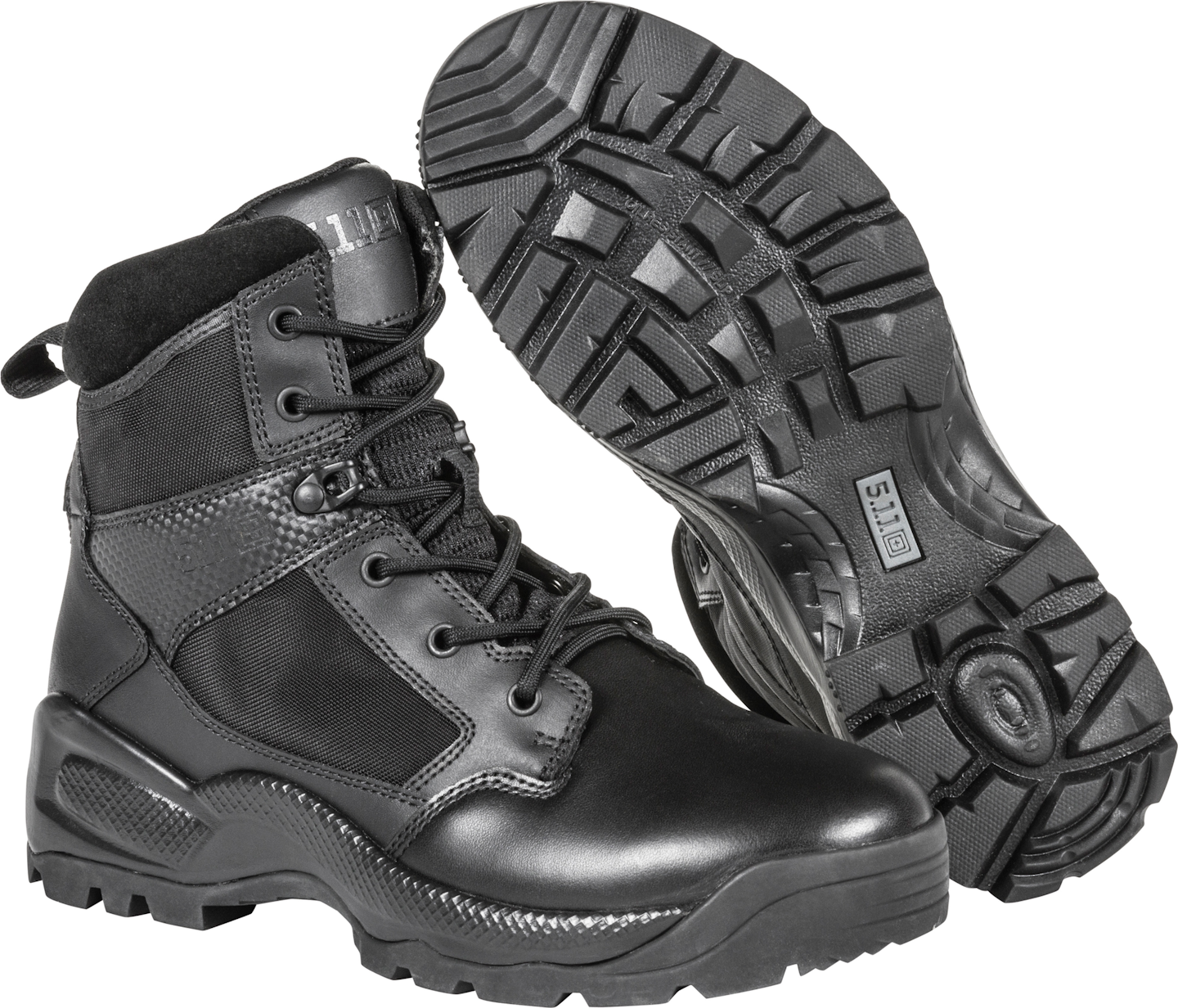 One of my go-to work boots is an eight-inch side zip. I don't remember the last time I had to retie the laces (I'll explain this comment later). They're scuffed and dull—the shine has long since passed. Though there has been zero effort or interest in repolishing them. At first, truth be told, 5.11's ATAC 2.0 was an odd fit. There was a pinch in my arch I've never felt before. It was tight in places I wasn't used to with my day-to-day pair. It turns out I've been wearing some really worn-out shoes. The pinch turned out to be midsole support. A couple of days of wearing them, the shoe basically feels like it was made for your foot—which brings me to my next point.
I thought that one of the attractions with the side-zip feature would be that you'd be able to keep the lace tied. While you can with the ATAC 2.0 6", I wouldn't suggest it. For me, this moment is where this shoe shines. I can't tell what exactly 5.11 did, but it seems the ATAC 2.0 was constructed in a way to compartmentalize the support. Let me explain. Anywhere beyond the ankle feels like it hugs your foot: your foot and boot are no longer two parts, but act as one. The upper includes a flex zone for your Achilles heel and bends out wide to wrap around your leg as secure as you need.
The sole was designed with an expected aggressive pattern with decent depth to the lugs and channels. I found good footing no matter the environment: wet, dry, grassy, wooded or sidewalk. At 1 pound 3 ounces per shoe (roughly, one from my pair was a half-ounce heavier than the other), I found myself wearing these all day without fatigue.
Features
Airflow breathable tongue
construction
Shock mitigation system
YKK side zipper
Achilles heel flex zone for enhanced comfort and flexibility
Strobel construction
Ortholite Achilles cuff for comfort
Slip- and oil-resistant outsole
ABR Pro Pant
The official description of 5.11's ABR Pro Pant includes the following:
"Apparel offerings…reflect 5.11's reputation for innovative, comfortable, dependable clothes with one of the leading product stories being an update to the pants collection. The ABR Pro Pant reflects the evolution of the 5.11 Taclite Pro Pant and is designed to tackle both on-duty and off-duty days. Nine total pockets, reinforced knees and seat, fade-resistant tool strap, and 5.11's trademark tool strap maximize utility, while FlexLite stretch ripstop fabric and an updated fit offers lightweight comfort and the utmost in durability."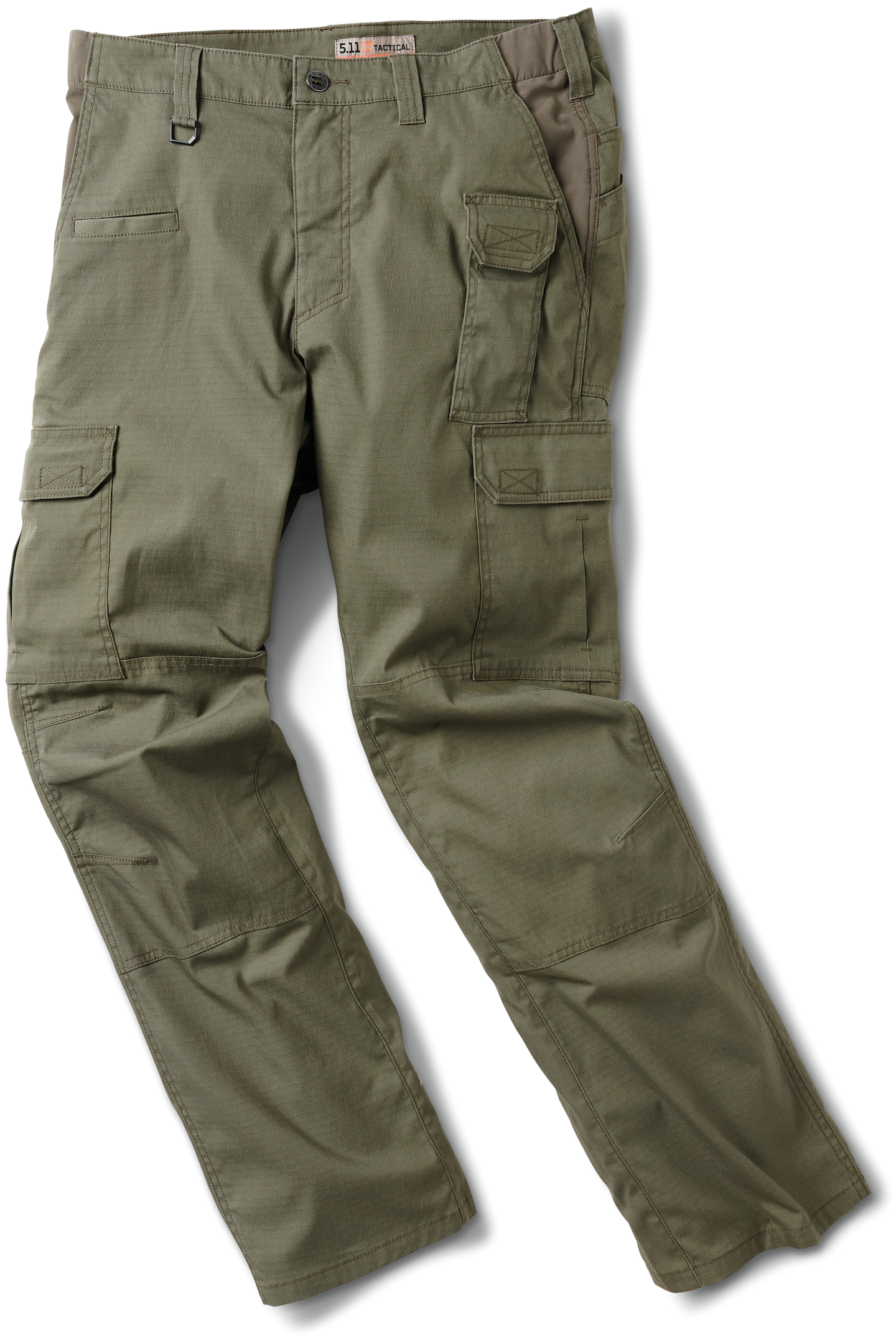 5.11's Pro Pant isn't my first experience with the company's pants as I had reviewed their Apex Pant before. They aren't in the same series but there are similarities. Though, one could argue that these are merely familiarities with 5.11 pants. Both are comfortable, roomy, and each's fabric are durable enough to withstand the majority of what the day can throw at it. The Pro Pant, however, has some improvements.
The fabric has a much thinner feel and is, in fact, lighter weight. Though they are the same size, my Apex weighed 1 pound, 4 ounces. The ABR Pro Pant came in at 1 pound, 3.2 ounces. It may be only 8 ounces, but it makes quite a difference. For comparison, a similarly sized pair of Levi jeans of mine weighed 1 pound, 6.8 ounces. The fabric is breathable, but I find it warm enough for cooler southern Wisconsin temperatures.
It should be no surprise that the pant is comfortable. There's plenty of room in the knee to bend, reinforced in places where they need to be, and has strategically placed pockets. For those counting, the ABR Pro Pant includes nine. An integrated smartphone pocket sits just on top of your thigh at 3.25 inches wide. Its counter-part on your other leg is an exterior pocket that envelopes out a bit and includes a hook-and-loop flap. I felt confident putting my smartphone in either, though the integrated pocket is a tad deeper at 6 inches. There's a smaller pocket (the ninth) set inside on the rear that runs just wider than the others at just over 3.75 inches wide. Pocket depths range from 7 inches deep (cargos), 8 inches (hips, to the about mid-point of the front pocket), 6 inches deep (rear, to the lowest part of the angle).
One of the more subtle things I noticed was the tack button. Yes, the button. Hear me out. First, I need to bring you back to the Apex. There, this button is sewn on with a horizontal loop that hangs out which allows the waist to give just a bit of flex. The Pro Pant's button is affixed vertically, with both ends of sewn down instead of hanging. There's enough to allow some give for the waist, but I find this vertical orientation provides a firmer close. After noticing the difference, it's something I can't unrecognize.
Again, another item here that I've forgotten about and end up wearing all day. These are commented on 5.11's site extensively. As of, this review it shows just over 950 reviews with 86% recommending.
Features
The site reports 65% polyester / 35% cotton ripstop fabric, 6.2-oz.,Teflon finish (although the tag reads 71% polyester / 29% cotton)
Teflon finish resists water, dirt, and stains for longer wear
Action waistband
Double-reinforced seat and knees (internal knee pad ready)
Bartacking at major seams and stress points
Triple-stitching
Lightweight, durable Taclite fabric
Gussetted construction for flexibility and strength
Extra pockets sized for tactical use
Hip-mounted D-ring
Rear-mounted tool strap, (length)
YKK zippers and Prym snaps
AMP LV10 Sling Pack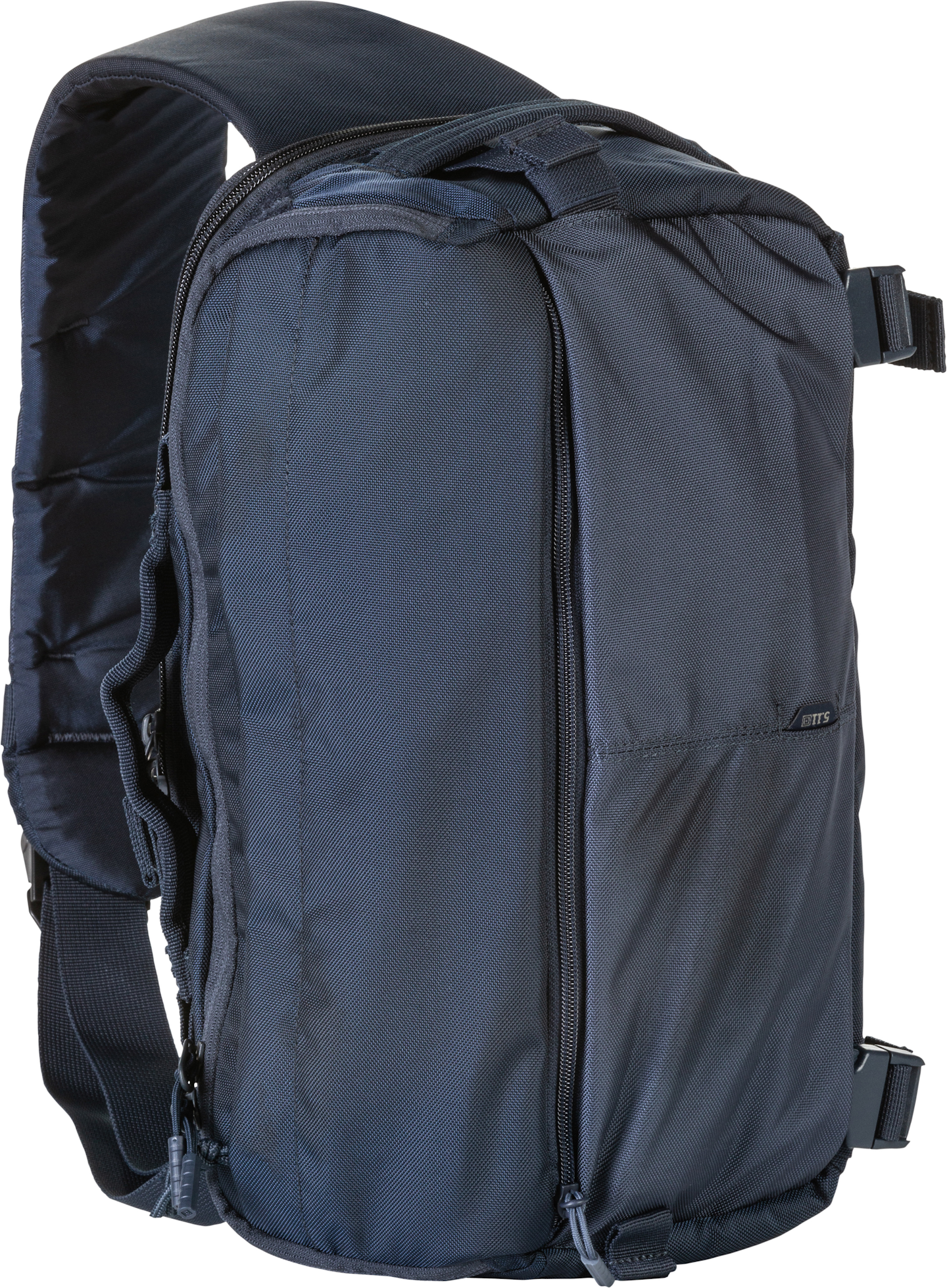 According to the 5.11 site, this pack series was named "Best Bag" of SHOT Show 2019 by the site Everdaycarry.com. Not to overuse the term here, but it fits well with the everyday use theme of the ATAC 2.0 boots and the ABR Pro Pant. There are four distinct large pockets. These include two on the front with one of them lined with fleece for your eyewear, the main compartment, and a concealed carry sleeve on the back of it with a good amount of padding to both hide the firearm and cushion the gear from your body. In fact, the full pack is lined with cushion protecting anything stored inside.
The entire pack runs roughly 13-inches across and just about 7 inches deep. The main compartment is two-thirds split with the smaller side lined with a smooth slippery fabric. The larger includes a panel of laser-cut MOLLE and eight accessory sleeves of various widths. This kept smaller items like pens and business cards from being tossed around and quick indexing when I needed them. This main compartment's cover includes a large webbed pouch stitched in its middle creating two areas. Every pocket is zippered. The only hook-and-loop type closure can be found on the MOLLE panel and in the CCW area. The dual zipper allows the pocket to open to a 90-degree angle with two straps acting like buttresses holding the flap from opening too far. Your firearm can be held steady by a thick sewn-in strap. Although I didn't carry a firearm with me during my wear-test instead, I placed my work tablet in this area. The extra padding kept things safe from being jostled around. This entire pack worked well for my general use. Wearing it was comfortable, though I missed the clip buckle like the one on the UCR Sling Pack. This clip saves a couple of moments while taking off the pack, but it does make the donning a bit more complicated than just tossing it over my shoulder. Pros and cons, I guess. With the shoulder strap permanently affixed, the LV10 includes a strong spring-loaded pressure buckle. It takes a good amount of intentional force to have it slip while closed and some aggressive teeth hold the fabric in place. However, if this does come undone, the level's natural position still keeps grip—it's not as strong, but the sling won't slide out until you manually bend and hold the closure all the way open. Packs like this need to be convenient. It was for me—especially when putting it through my carry-on challenge where I have to store everything I would want to use and need through the airport in a single bag. It also looks a million miles better than the fanny pack I knew of from the 1980s.
Features
Fleece lined top zipper pocket
Front zippered pocket
Side compression straps and additional grab handles
Bottom webbing straps with expandable water bottle pocket
Quick access to internal lid dual mesh pockets
Internal loop faced laser-cut MOLLE, padded tablet sleeve, and admin organizer
Rear CCW compartment with "hot pull" system, loop panel, and webbing system for holster
Flex cuff channel on back panel
Padded back panel and quick release single shoulder strap with removable sternum strap and CAM buckle
Water-resistant 840D Nylon
5.11's signature Centerline desig n
These three were only a snippit of their announcements from SHOT Show 2019. One can only assume they'll have a plethora of new items this year.