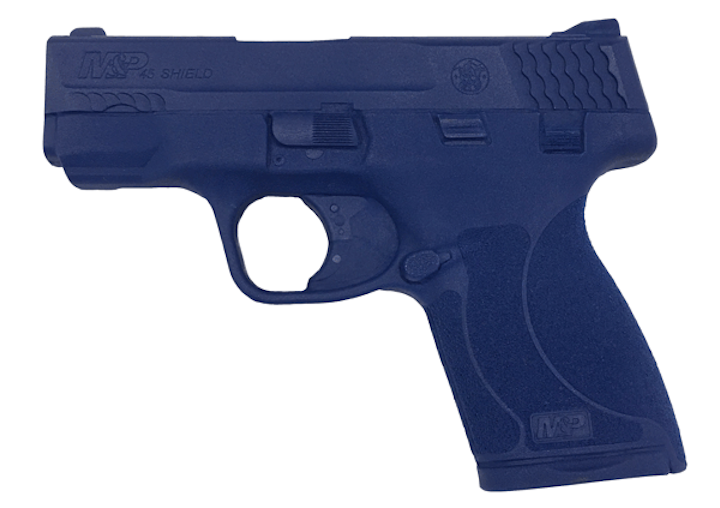 Introducing the Smith & Wesson M&P Shield .45ACP Bluegun training pistol replica from Ring's Manufacturing. The M&P Shield training pistol is molded from solid blue polyurethane to differentiate the from a live weapon. 
The M&P45 Shield is light, with an unloaded weight of 20.5 ounces. It's also small in size, featuring a .99-inch width and an overall length of 6.45 inches. Barrel length on the M&P45 Shield is 3.3 inches. The new Shield also comes with an upgraded grip texture and features front cocking serrations. On the outside of the gun, shooters will find a takedown lever, slide stop and a magazine release. Consumers will have the choice between options with and without a thumb safety. 

The M&P Shield disappears in an un-tucked fitted T-Shirt and ankle carries well. It is a comfortable, easily concealable, reliable .45ACP handgun. To keep the gun as slim as possible, all of the Smith & Wesson M&P 45 SHIELD's controls are small and tucked in close. The shooter can't release the lever just using your thumb, at least not quickly and reliably. It's too small, and too snugly mounted against the frame. 

Blueguns' Smith & Wesson Shield 45 Bluegun training pistol is a 1:1 exact replica of the original M&P 45 allowing officers to train in safe realistic tactical scenarios without the need to use their duty firearms. All Blueguns are 100% manufactured in the USA.
Request More Information
Fill out the form below to request more information about Smith & Wesson M&P Shield .45ACP Bluegun Training Pistol Replica.
---