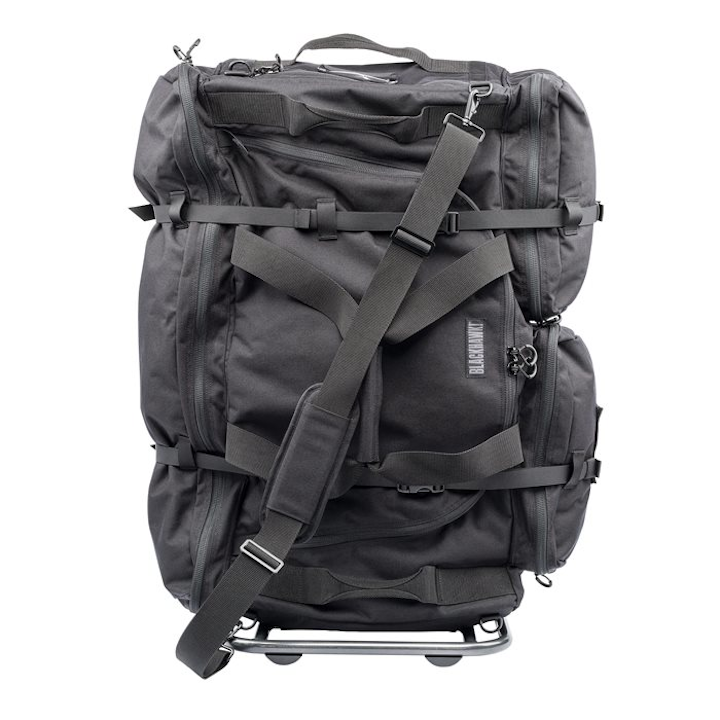 BLACKHAWK!
With a massive 7,749 cubic inches of storage space, this rolling "go box" presented me with one challenge as I got ready to test it for review: Could I come up with enough gear that it was actually too much for the bag to hold.  With a weight limit of 200 pounds (per the BLACKHAWK! Website), I was honestly more worried about whether or not I'd be able to carry it if I DID get that much gear into it.  Thankfully, it comes with a rolling aluminum frame.  I never did get it overloaded.  This thing holds A LOT!
Designed and manufactured by BLACKHAWK!, you know this bag was developed primarily with military deployments in mind.  Someone in the marketing department was sharp enough to realize that it would also serve well for the survival & prepper crowd and someone else (me, if no one else wants to take credit) realized that it would be the ultimate soft sided luggage for traveling with a spouse.
Let's take a look at the published specifications and then I'll get into the two primary ways I tested the bag.  Straight from the BLACKHAWK! Website:
• Constructed of 1000 denier nylon
• Heavy-duty aluminum frame with urethane wheels handles 200 pounds of weight
• Comfortable 2-inch padded shoulder strap is removable with swivel snap hooks
• Removable backpack straps
• Multiple handles for easy lifting and loading
• U-shape heavy duty YKK zipper with lockable sliders
• Vinyl I.D. window
• Compression straps with side release buckle
• Three external pockets for immediate gear access
• Dimensions: 36.5"Lx16.5"Hx16.5"W; 7,749 cubic inches
The bag is available in six color options:
Black
Coyote Tan
Urban Gray
MultiCam
Olive Drab
Ranger Green
The one I received for testing was in Urban Gray.
When I first unpacked it, I was in awe of the actual size.  Just over three feet long and almost a foot and a half tall by the same measurement wide, it looked like it would hold all of my emergency responder gear.  It also looked like it would be perfect for a two-week long family vacation wherein my wife and I would only have to pack one bag; this one.
While the specifications say that there are three exterior pockets for quick gear access, there are actually four.  Two of them measure 11"x12" (my measurements not confirmed by BLACKHAWK!) and are on one side of the bag.  These pockets are an inch or two deep.  On the opposite side of the bag is one LONG gear pocket that is as long as the bag – so just about three feet – and 11" tall, also about an inch or two deep. The last (fourth) exterior pocket is on the end opposite the rolling frame wrap-around, and it's a flat pocket that measures about 12" wide and 7" tall. It's perfect for travel documents, maps, etc. and has a hook-and-loop patch panel perfect for attaching the vinyl ID window BLACKHAWK! provides.
You'll note that aside from the rolling frame for this bag it is also equipped with a set of padded adjustable and removable shoulder straps so it can be removed from the rolling frame and worn / carried as a backpack.  It also has a removable padded single shoulder sling strap if you want to carry the bag – with or without the frame in place.  If you are carrying this bag – full to its 200# capacity – in either way, I tip my hat to you.
To test out the bag I first unloaded all of my emergency services gear onto the floor in my office.  That list of items included (and then some): my Kevlar helmet, external ballistic vest with loaded pouches (six rifle mags, three pistol mags, radio pouch, hydration system, trauma pouch), knee pads, elbow pads, goggles, protective mask, holster platform, a couple boxes of ammo each for rifle and pistol, gloves (two pair), two flashlights, spare batteries… and a few more items.  I also had out my Battle Rifle BR4 .223 AR style rifle and my Glock 17 (Gen 4) with weapon light attached.  For the rifle, NOT in the vest pouches, I had an additional four 30-round magazines and for the handgun I had a total of six 17-round magazines: three on the vest, and three more.
ALL OF IT went into this bag without any problem.  I had plenty of room left over.  I added a spare uniform, extra pair of boots, several extra pair of socks – and still had room left to spare.  This thing is a rolling wall locker.
Okay, so I had determined that it would carry everything I could think that I might possibly need on an emergency services call out.  How about if I was using it just as luggage?  So I emptied out all that stuff (and reorganized it the way it was before I unloaded it all onto the floor in the first place) and took the Go Bag to my bedroom.  I put it in the middle of the bed and asked my wife to put everything into it that she would need for a two week vacation.  (I've been married over twenty years so I'm smart enough not to list all that stuff here.)  Clothing, bathing suits, shoes, personal items, etc all went in there.  Then I added all MY stuff for two weeks (it was significantly less stuff).  There was still room to spare and after realizing that there was room to spare I also realized that we hadn't even put ANYTHING in that long outside pocket.
Now, you get what you pay for and a bag like this isn't cheap.  MSRP runs anywhere from $378 to $511 depending on color and what dealer you're getting it from.  A quick Google search online found me one for as little as $264 WITH the frame or $189 WITHOUT the frame.  I can't imagine trying to carry this thing fully loaded for great distances (like through an airport from one terminal to another) so I wouldn't get it without the frame.  That said, if you've got the strength, go for it.
For more information about the Go Box Rolling Load-Out Bag from BLACKHAWK!, check it out online.
Stay safe!