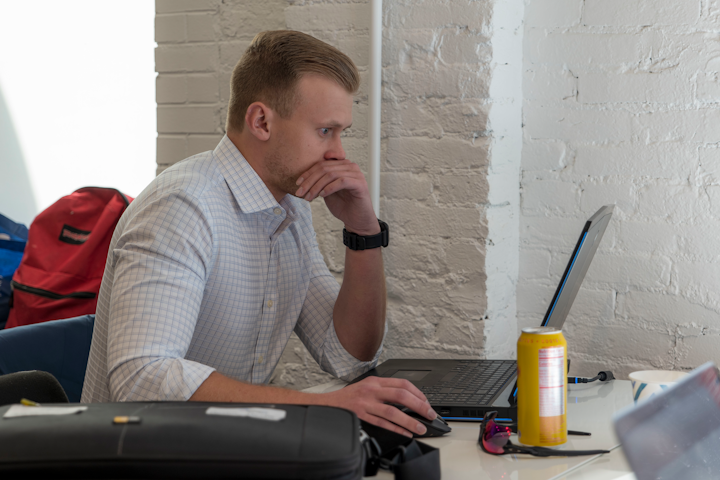 Austin Handle is a police officer and tech hobbyist with a dream–to get his self-made application, Apollo AI (or Apollo), in the hands of first responders. As it turns out, the National Institute of Standards and Technology's (NIST) Tech to Protect Challenge may be able to help.
Handle started out as an officer for a small campus police department three years ago and eventually found himself working night shifts in larger areas. During that time, he started running into communication and technological issues many police departments weren't addressing.
"It led to me realize a lot of the problems had by night shift patrol officers, even in a bigger city with supposedly unlimited resources," said Handle. "We face very mission critical issues and there's no good way to fix it. And I don't think anyone really knows a good way to fix it."
Handle compares Apollo to Jarvis, the AI assistant from the Iron Man films, for first responders. It's a virtual assistant that talks, texts, and emails important information to public safety officials all on voice command.
"It's pretty much everything that I could imagine we could do without eliminating a dispatch center altogether. Apollo is pretty much designed out of that nature and that necessity," said Handle.
Chasing His Way to a Solution
He began working on Apollo one night after chasing a stolen car and juggling all of his duties. After much back and forth with dispatch calling out the vehicle's make, model over the radio, meanwhile driving at dangerously high speeds and finally managing the actual traffic stop and checking the vehicle's tags, Handle found he couldn't actually type up his police report in his patrol car. Why? Because it's the night shift and backlit keyboards aren't installed.
"It's silly," said Handle. "I started thinking, 'There has to be a better way.'"
Handle says part of the problem of integrating technology with police departments is not everyone is tech-savvy. That's why he believes a hands-free virtual assistant is the best solution.
After nearly two years developing the app, Apollo is now a working prototype of a hands-free web application and virtual assistant. It can be accessed on any device and communicate information to people over a headset through a digital voice. Handle said it sounds remarkably human thanks to neural language processing.
"We do have a dashboard built into so you can see this information as it's coming in, but you get it all in your headset and it sounds like a normal person talking to you," he said.
Apollo's Journey to Tech to Protect
After the large amount of work put into the application, Handle desperately sought grant funding opportunities to help put Apollo to use in the field to accomplish his original goal of aiding first responders. He looked to NIST, scanning for opportunities once month until, finally, he found the Tech to Protect Challenge.
"I stumbled across Tech to Protect the day it launched, just by chance. And I saw that Apollo actually fit into like three of the contests," said Handle. "I was excited. These are actual problems that we need to solve. And it's hard because the private market and commercialization people have no idea."
After entering the competition, Handle won #2 Top Overall and Best in Class for Apollo. As for the reward, he said half of it immediately went right back into developing his application.
Outside of winning the competition, Handle said he absolutely loved the staff accommodation, friendly faces, and the presentations.
"The presentations were fun. The way that they were conducted was very casual. The judges were like, 'Hey, we're going to come to you. You stay at wherever you've been working for this week.' The compliance checkers were very friendly, very knowledgeable and offered to help," said Handle.
When it comes to competing again, Handle said, "Absolutely I would attend another one. My experience was phenomenal from the beginning, and I wouldn't expect anything less when I go down to the Miami Tech to Protect Challenge. It was fun; it was engaging. They worked very hard to make sure that we felt welcome, no matter what walk of life we came from."
Handle also remarked on the keynote speakers' inspiring speeches, who were D.C. public safety representatives. "They did a really good job setting the atmosphere reminding us that we are striving to make a difference. I think that that was the best part about the entire thing," said Handle.