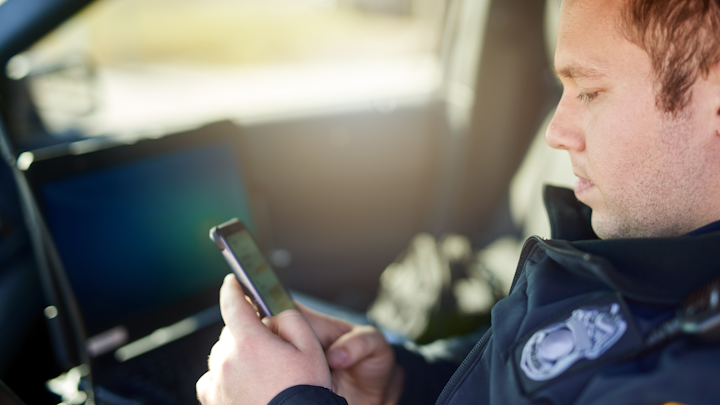 © gettyimages.com
A patrolman's vehicle is not only their means for transportation but is also their mobile office. Each year, fleet units are becoming more and more equipped with technology that is already embedded within the vehicle. Some newer features work well with other, removable technology as well as optional fleet accessories that make a policeman's vehicle as efficient as possible.
The vehicles
Fleet vehicle manufacturers have recently come up with some additional features in their newer fleet units that allow their vehicles to be connected to certain traffic infrastructures that contain mobile connectivity capabilities. This makes the vehicle "aware" of its surroundings, even changing traffic lights when need be to the officer's advantage. This is done through V2X technology that is gathered and stored through a specialized antenna. One example is Cradlepoint's in-vehicle V2X devices such as they are that are mounted within the police vehicle such as their COR IBR1700 and their COR IBR900.
This is connected with software that includes additional capabilities such as GPS and location trackers as well as vehicle monitor capabilities. Others that have joined in with this technology are Code 3 and Danlaw which also have antennas and software with preemptive abilities including the ability to stop traffic at intersections so that the officer may proceed safely.
Laptops and accessories
Additionally, other equipment is just as important for a patrolman such as rugged laptops and mobile printers. Among the latest in rugged laptops are Panasonic's TOUGHBOOKS. Each of these laptops are durable yet are lightweight. In particular, the monitors on the 20 and 33 are able to detach and may be used as a rugged tablet. Dell also has rugged laptops such as the Latitude 5420 and the 7214.
Mounting each device within the vehicle securely is equally important. This is not only for the safety of the device itself but also for the officer. By securing the equipment properly, the officer can concentrate on the road without worrying about their mobile office devices shifting or acting as a projectile. Fleets have several options to choose from for laptop mounts. For example, Gamber-Johnson and Havis provide mounts which accommodate many different rugged laptops. Many models are even able to lock and many are able to swivel.
Including mobile printers in a patrol vehicle can be convenient for printing out reports, license information or other documents an officer may need. Mobile printers can work off of wireless connectivity or often Bluetooth connectivity. Honeywell rugged printers (the RP Series) come in a variety of choices and sizes dependent on what the printer will be used for. Printek also has a wide variety of portable printers. In particular, the FieldPro selection is durable and easy to mount anywhere within the vehicle, even in a vertical position leaving room within the unit for other devices.
Departments have a few choices when it comes to enabling their patrolman with internet access. Some departments use modems such as the options from Cradlepoint which include extra ethernet connection capability. Others use mobile hotspots and issue each officer their own, portable modem. This allows the officer an internet connection for their rugged laptop as well as their smartphone and other devices within the vehicle.
E Citation
For some agencies gone are the days of filling out multiple paper traffic or parking citations. Electronic citations make traffic enforcement easier on everyone. Companies such as Barcodes Edge, eCitation Coalition, L-Tron, and MSA Systems have developed programs and devices that allow officers to issue citations in a much easier, and faster manner. These include barcode scanners that allow the officer to scan an individual's driver's license and it will then auto-populate information as well as alert of restrictions or any other important information that may be related to the person the officer may need to know. Officers can input the violation and print out the ticket. These are also connected with RMS systems to make tracking the citations convenient as well as backed up to a cloud. Some of these are also able to connect with their local court databases making tracking and sharing the citations even easier.
Speed enforcement
Officers can gauge speed using easy, handheld speed enforcement tools such as the options provided by MPH Industries and Kustom Signals. MPH Industries offer both dash mountable and handheld choices; the handheld may be used with a cord or cordless with a battery option. Touchscreens and easy to view in any light LCD screens make speed enforcement easy. Kustom Signals handhelds include SMART Patrol Search which provides the officer with accurate speed readings without having to shadow or track vehicles.
Unit cameras
Just as body cameras are important, cameras inside of a patrol car are equally important. These provide the ability to record as the officer is driving to a call. Additionally, some patrol units are also equipped with a unit camera that records inside of the vehicle which is a good idea when transporting prisoners. Should there ever be a question of behavior for anyone inside the vehicle, these unit cameras will capture the truth. A few companies that make these are Watchguard, 10-8 Video Solutions, Pro-Vision, and Axon.
Flashlights and chargers
Flashlights are always a basic necessity for patrol. Many flashlights now have the ability to stay charged for longer amounts of time and may be recharged using a USB port. Fenix, Streamlight, SureFire, and the EagleTac are just a few that offer a variety of sizes, and level of brightness for officers. Measuring from three inches to seven and offering a variety of settings including level of light and distance, officers can find the flashlight that is best suited for their needs. In particular, the Fenix PD35 TAC, and the SureFire P2X Fury Tactical are among several that are excellent choices. Most of these are long lasting and may be recharged in their patrol car.
Though the devices above are standard for most departments, some departments may go one step further and equip their officers with more advanced devices such as handheld biometric equipment. Mobile fingerprint readers are helpful when trying to confirm the identity of an individual that may be concealing identity or may not have a proper form of identification. These devices feed into the Automated Fingerprint Identification System (AFIS) which then provides an ID. CrossMatch Technologies and Sagem Morpho have handheld devices for this purpose. These include additional information about the person as well as a photo so there is no question of identification.
All of these devices keep durable reliability in mind. Officers can have everything they need at their fingertips without compromising limited space in their vehicle or overall productivity.