Lola Gomez/Austin American-Statesman/TNS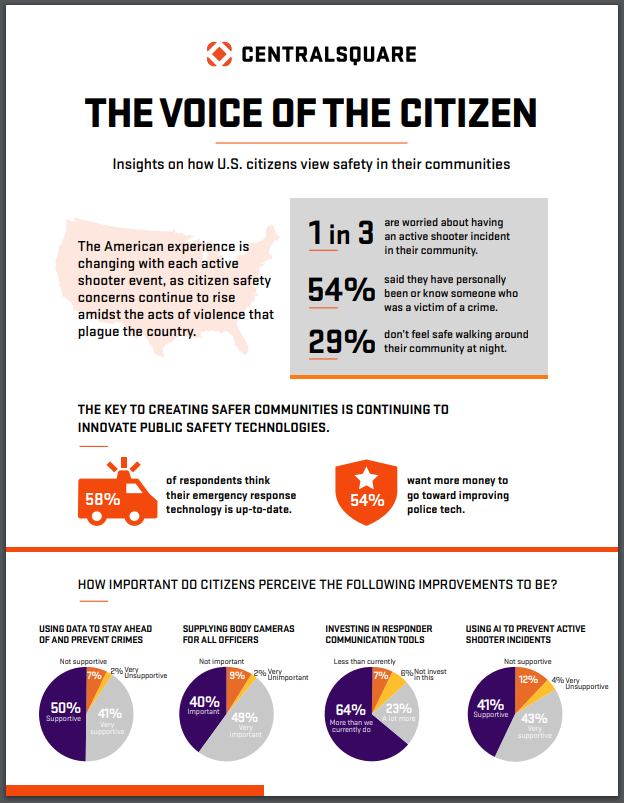 LAKE MARY, Florida -- Data released earlier this month by CentralSquare Technologies revealed that one in three people surveyed expressed concern about an active shooter incident occurring in their own community.
The  CentralSquare Voice of the Citizen Survey, which questioned more than 5,000 Americans, also found that Gen Z and Millennials -- most of which grew up with active shooter drills -- are twice as concerned about active shooters than baby boomers.
View the results of the survey
During a recent event held at CentralSquare's headquarters, Chief Marketing Officer Jatin Atre told Officer.com that the increase of active shooter incidents across the country weighs heavily on his company's core mission.
"(Active shooters) have gone from 'never going to happen to me' to something people have to watch out for," he said.
Of the younger generations, 46 percent of Generation Z (born between 1997 and 2001) and 39 percent of Millennials (born between 1981 and 1996) said that they were either worried or very worried about active shooters. That is compared to only 22 percent of Baby Boomers (born between 1946 and 1964).
In addition to fears of active shooter incidents, almost 30 percent of all respondents said that they don't feel safe walking around their communities at night.
To combat these concerns, the study found that a majority of citizens said they felt technology could help create safer communities and minimize events of violence. Of those surveyed, 54 percent of respondents requested that more money be put toward improving police technology.
The study found that 87 percent want better investments in communications technology to connect first responders from neighboring communities. Ninety-one percent of respondents said they want big data for smart policing so that first responders can stay ahead and prevent incidents. Eighty-four percent said they would support the use of AI technologies to spot and identify a shooter or prevent a serious crime.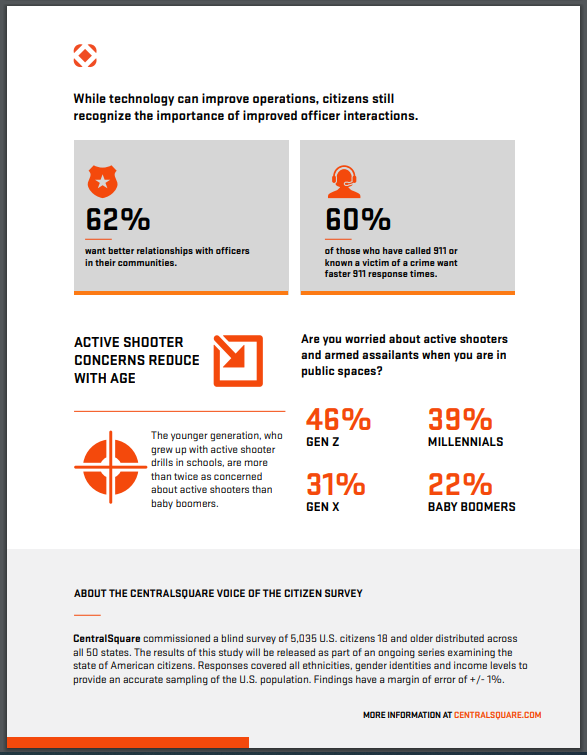 "We're seeing the American experience is changing, as anxiety levels around public safety are rising, but agency budget and personnel numbers often remain unchanged," CentralSquare CEO Simon Angove said in a statement. "By focusing on innovative technologies to improve both officer and citizen safety, we can help create safer and smarter communities for future generations."
CentralSquare commissioned the blind survey of 5,035 U.S. citizens 18 and older distributed across all 50 states. Responses covered all ethnicities, gender identities and income levels to provide an accurate sampling of the U.S. population. Findings have a margin of error of +/- 1 percent.