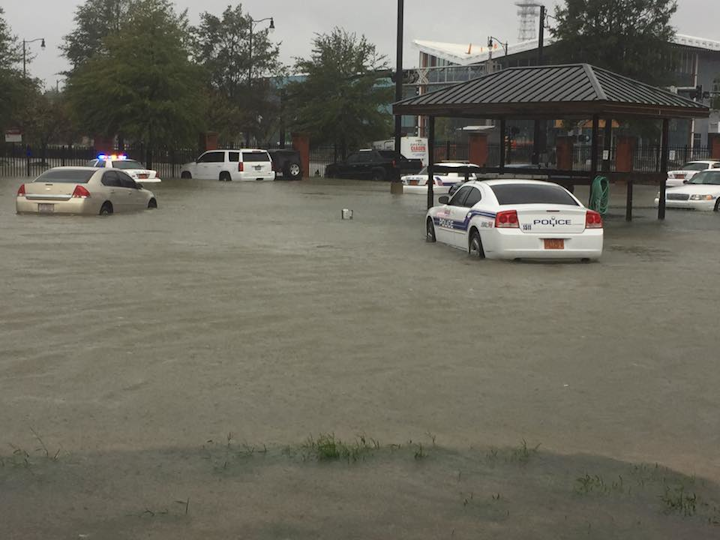 Fayetteville Police Department
Natural disasters can impact a community in a matter of minutes. Whether it's a tornado, a hurricane, flooding, a snowstorm or a wildfire, they are oftentimes unexpected and calamitous. As first responders, law enforcement have the unique job of running towards an emergency rather than away from it, even if their own home or family is impacted by the disaster. Across the U.S., police departments are tasked with preparing for and responding to a varying degree of natural disasters and are using diverse technologies to do so.
The power of social media
In 2016, Hurricane Matthew reached Category 5 strength in late September into early October. On Oct. 8 the hurricane made U.S. landfall in South Carolina as a Category 1 hurricane and impacted many of the eastern states. It brought flooding to many areas, including Fayetteville, N.C., the victim of more than 8 inches of rain in a 6-hour period and more than 14 inches overall. The storm had seemingly passed, so many residents were going out to malls and stores to run errands, recalls Sergeant Shawn Strepay of the Fayetteville Police Department, but then the flash flooding started. "It was disastrous and unexpected." The flooding caused houses to lose power and many people became stranded in their cars, he recalls. The police agency was forced to utilize its generator, as it too became victim to loss of power.
As part of 430 sworn officers and civilian personnel at the Fayetteville Police Department, Sergeant Strepay was one of many who were called to action the day of the flooding. "We had officers coming in to work even though their houses were being affected," says Strepay. "Our department's parking lot just started flooding and we had some patrol vehicles that were damaged."
The department had had an operations plan in place and a warning of the storm, but wasn't expecting the continuous flooding. The plan was modified as the storm changed and one aspect that proved to be of great benefit for the officers was the use of social media to correspond with community members.
The department turned to Facebook Live to inform citizens to stay inside their homes and to show them the effect the flooding was having on their community.
In fact, with Facebook Live, the department became the information source for many civilians in the town, explains Officer Asia Cannon. "The media lost power and so did the residents so no one could turn on their televisions," she says. "Our officers, including myself, took to the streets and used Facebook Live to show people updates, inform them to stay inside and display the dangers of the roadways." In a matter of hours the department's Facebook page gained between 11,000 and 12,000 followers.
Community members appreciated the department's use of Facebook Live, says Cannon, as it was their only source of information. They were turning to the police for updates. "We had the advantage of telling people what was going on and they also used our Facebook page to see if we could check on relatives they couldn't contact," she says.
Though Fayetteville PD had warning of an imminent storm and an operation's plan in place, not all agencies have that luxury and instead have a natural disaster thrust upon them with no warning at all.
Last minute notice
The Fallon County Sheriff's Office, located in Baker, Mont., resides in a rural part of America, approximately 200 miles east of Billings, Mont., and 200 miles west of Bismarck, N.D. The Sheriff's Department—consisting of four sheriffs and five police officers—covers 1,400 square miles with roughly 3,000 residents in the county.
On June 11, 2016, Baker was hit by an EF-3 tornado with little warning and no time to prepare. "The weather folks actually told us a tornado was going to hit us after the tornado had already hit," says Sheriff Trenton Harbaugh of the Fallon County Sheriff's Office. "The only information that we received beforehand was from 911 calls and officers in the field."
The city was in reactive mode, rather than proactive, setting up a large siren through the dispatch center just before the storm hit. "The city was hosting state rodeo finals that weekend, too, which also meant that we had an extra 1,000 people in town," he says. "We had an extra two officers patrolling the area, but all we could do was watch and hope for the best." In the end, 54 homes were affected and 20 were demolished, but no lives were lost, Harbaugh reports.
In less than 2 hours, 19 agencies from other locations were on the scene and a barrier was set up around the damaged areas. "It was a huge eye opener for us because we were unprepared for a natural disaster," says Harbaugh. "This event was unprecedented."
The biggest challenges, in Harbaugh's eyes, were the limited resources and the influx of other agencies. "We live and operate in an area with a sparse population and so when we had additional agencies here, we had to all work together. Meanwhile, we had community members looking to us for volunteer opportunities right away and we didn't have anything for them to do because we had to make sure it was even safe to start clearing debris."
A Facebook page was ultimately set up to let the community know what was happening and as a space for volunteers to connect.
Though the tornado was unexpected for the Fallon County Sheriff's Office, some agencies in the U.S. respond to disasters on a regular basis and have found success with an emergency notification system.
Mass notifications: Alerting civilians and responders
The Bay County Sheriff's Department located in Bay City, Mich., has seen and responded to several large natural disasters in its history, including massive flooding in the 1980s and 1990s. In an average year the department responds to many different types of weather-related emergencies including water rescue missions, flooding, winter snowstorms and more, says Sheriff Troy Cunningham.
Years ago, whenever a natural disaster would strike, sheriffs were tasked with pulling out a list of phone numbers and manually calling deputies to have them report to the station —a process that was laborious and slow moving, recalls Cunningham. Now, it's done in a fraction of that time with their emergency notification system from Rave Mobile Safety, which the department began utilizing two years ago.
The Rave platform has streamlined operations, decreased response times and decreased 911 calls, says Cunningham. "Now we don't have to call each deputy separately," he says. "With Rave we are able to send out a mass notification and deputies can respond in sometimes minutes, which was not the case years ago."
Not only does the system allow officers and firefighters to receive a notification, but it also has the capability of alerting the community of a natural disaster or emergency straight to their cellphone, email or landline.
"As soon as we relay something through central dispatch, everyone who has their phone is aware of it," says Ryan Manz, Bay County emergency management coordinator. This has cut down calls into 911 as people know exactly why they don't have power. "Before, we had to rely on getting ahold of the media to get it on the news that people should avoid an area. Now it goes out as we need it." As the news is pushed through Rave's system, it is also pushed to the city's busing system and Sheriff's Department Facebook page and Twitter.
The notification system has increased safety, too, says Cunningham. "Once people know that there are downed power lines in an area, they stay away from it. It cuts down on workload for officers because of
that fact."
Advice for disaster prep
Although the storms eventually subside, the damage can have a lasting impact. In Fayetteville, N.C., Strepay recalls that police provided support even after the rain stopped and the flooding declined. "There were roads washed away from the water and to this day the city is still trying to fix those roads," he says. "We had to make sure that people were staying away from the downed power lines and other dangers."
Strepay's advice for other agencies is to be prepared now and have a natural disaster operational plan in place. "Technology is great but only when it works and sometimes during an emergency you have to know how to do things with your hands," he says. Fayetteville has a real-time crime center that has cameras on all of the major thoroughfares throughout town. This usually allows officials to locate downed trees and power lines, but when that technology stopped working, the police department had to modify its original plan. "The power lines lost power so the cameras didn't work," says Strepay. "I recommend that all agencies should be trained on what happens if you lose power, and familiarize yourself with things when technology no longer works."
Officer Asia Cannon recommends keeping a good working relationship with other first responders in your area as well. "You've got to be able to reach out and work together with EMS and the fire department," she says. "Create a partnership because you will all be communicating with one another during the disaster."
Bay County's Sheriff Cunningham recommends that if your police department is responding continuously to weather-related disasters, invest in technology that allows easy communication between officers and community members. "In the past we had a water main break that flooded out the gas lines in a four block area so, with Rave, we could geofence those four blocks and call those numbers in the targeted area," he says. "It saved us time and we get a lot of use out of it."
In Montana, Sheriff Harbaugh advises the use of social media for agencies in a natural disaster crisis. "We are such a small agency that we don't have a Facebook account, but I think it would be really useful for larger agencies, especially those trying to communicate with a great number of people," he says.
Police response to a natural disaster will depend on agency size and the nature of the emergency, but having a good operational plan in place that includes the use of social media and an emergency notification system may help departments increase transparency with the public, decrease response times and much more.
To view more photos from Hurricane Matthew, visit Officer.com/12325046.
To view video footage of Hurricane Matthew destruction and rescues, visit the Fayetteville PD Facebook page www.facebook.com/Fayetteville.Police/videos/1238266322871040 and www.facebook.com/Fayetteville.Police/videos/1238230999541239.