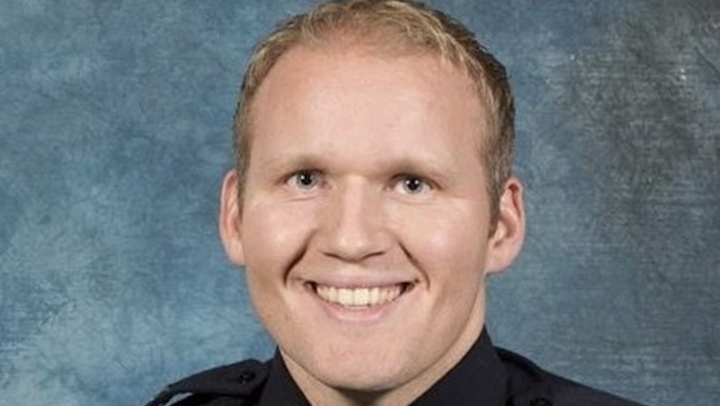 Henry County Police Department
HENRY COUNTY, Georgia -- A Henry County officer shot during a struggle with a man in a dentist's office three weeks ago has died, police announced Friday morning.
Officer Michael Smith died at 4:30 a.m. at Piedmont Atlanta Hospital due to complications from a gunshot wound Dec. 6, according to Henry County police. 
"Please keep the Smith family in your prayers," a spokesman for the department said in a statement. "Funeral arrangements will be forthcoming."
Smith, a father to a 3-year-old boy and a seven-year veteran with the force, was shot in the face during a struggle with a man in a dentist's office near McDonough. A single gunshot critically injured Smith and killed the man, 53-year-old DiMaggio McNelly.
As recently as Saturday, police said Smith's condition was improving. He was showing signs of progress in rehab at the Shepherd Center, Henry police Chief Mark Amerman said in a video posted to Facebook.
"Yesterday, he took 10 steps, which is really encouraging," Amerman said on Saturday. "Your thoughts and prayers going out to him are very much appreciated; I want to let you know that it's working."
MORE: Wounded Henry County officer recovering as wife hospitalized with blood clots
Amerman also announced that Smith's wife, Erin, was recovering at Piedmont after a recent scare while visiting Smith in rehab. She required emergency surgery after she fell and hit her head, and doctors found blood clots during an examination, he said. 
A GoFundMe page to raise money for Smith and his family has passed its goal of $20,000.
Smith is the sixth Georgia officer killed in the line of duty in 2018. His death follows the Dec. 13 slaying of DeKalb police officer Edgar Isidro Flores, who was fatally shot during a traffic stop on Candler Road. 
———
©2018 The Atlanta Journal-Constitution (Atlanta, Ga.)
Visit The Atlanta Journal-Constitution (Atlanta, Ga.) at www.ajc.com
Distributed by Tribune Content Agency, LLC.