If you've been in the law enforcement world of work long enough you remember wooden nightsticks and it was long before anyone referred to them as an "impact weapon." They were a nightstick or billyclub.  
The next thing you knew there were batons made of polymers, fiberglass and more. There were batons with handles on the sides and then those became collapsible, and somewhere in all that (or before) there was something called a "friction lock baton." No matter who the manufacturer was, that friction lock baton was called an "ASP." Ever wonder why that was?
Armament Systems & Procedures (ASP) was founded in 1976. As the movement away from wooden nightsticks began, ASP was the early creator of the friction lock baton and offered training in using it that went far beyond how to open and close the tool. It included strategies on using it either opened or closed and even how to use it as a psychological tool during the opening moves. Since those early days of the company it's grown so that its product line now includes far more than batons. If you visit their website you'll find that they also manufacture restraint devices, handcuffs, flashlights, pocket tools and more.
This article will focus on their new line of batons: the Talon Infinity series.
If you remember the first ASP friction lock batons, they operated just as the name described: you swung them open and the friction between the three pieces of steel or aluminum body locked together and were stuck that way until you slammed the tip of the baton against a hard enough object, and did so with enough force to close it. ASP later developed the push-button release system and the Talon batons are the latest iteration of that functionality.
The Talon Infinity series opens easily, delivers well and closes just as easily.
As part of their corporate ethos, ASP listens to those in the field who use their batons on a daily basis. How can the tool be improved? Is there a way to make it better? ASP catalogs the responses and looks for the commonalities. Additionally, they use their entire cadre of certified instructors for feedback as well. Who better to recommend updates or upgrades to an impact weapon system than those who not only use it daily but teach others how to do it right?
I was provided two Talon Infinity batons to test for the purposes of this article: one steel and one aluminum. Both are the full-size (60cm open length) versions and incorporate the newly updated Vector grip design. No longer the foam feeling so many are used to, the Vector grip material feels more rubber and less foam but the texture and design provide an improved tactile feeling of security in all motions performed. The steel Talon is noticeably heavier (21.4 ounces) and incorporated the button release (button inside cap). The aluminum Talon (12 ounces) uses the entire end cap as the release. It should be noted that this isn't "standard." You can order your steel Talon with a cap release and the aluminum Talon with a button release. Taking a closer look at either of them you'll see a small infinity sign (∞) just forward of the grip on the deployment end.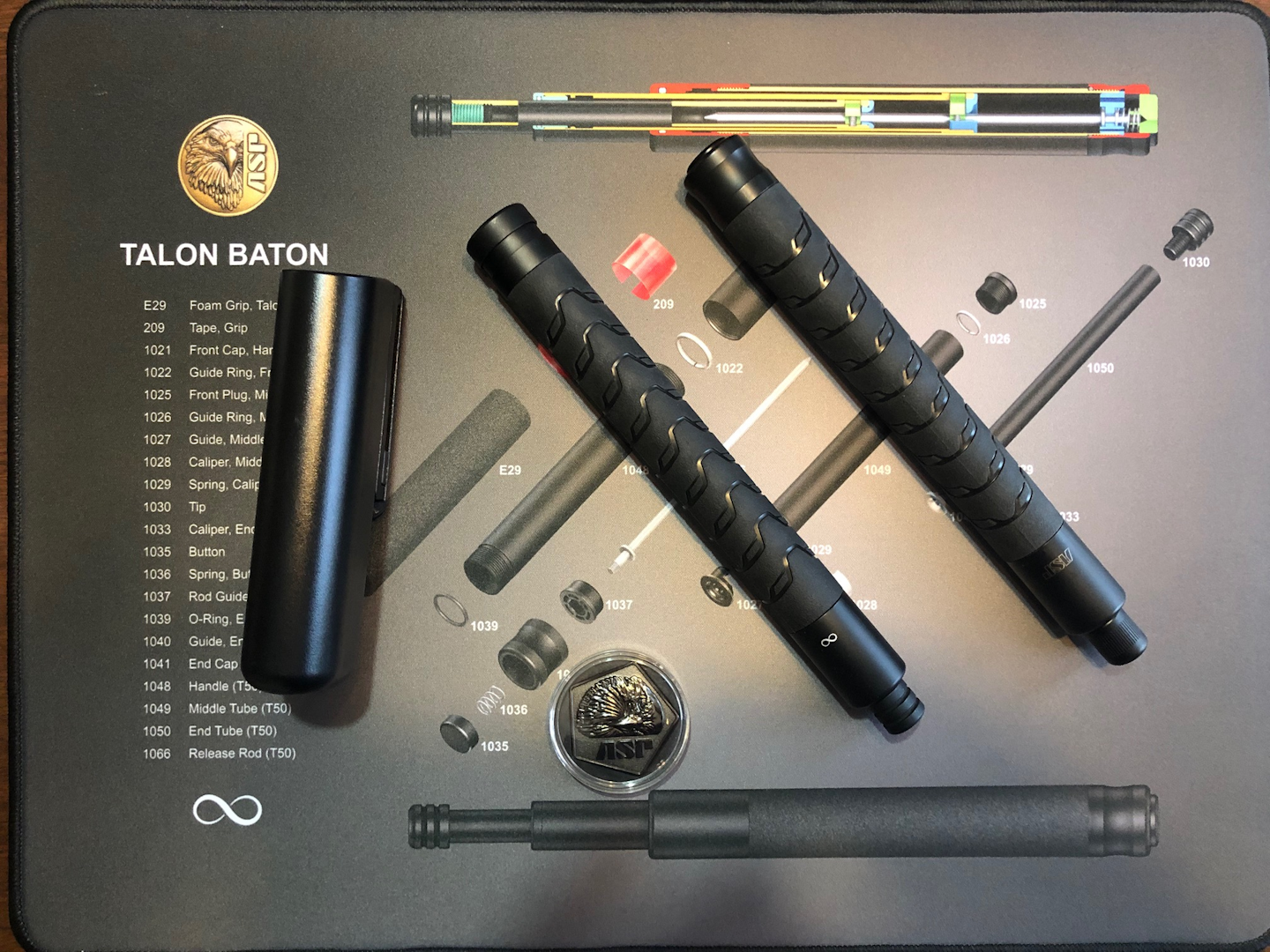 In the closed configuration, both Talons measure just under 10" (9.63" according to the website). The Talon Infinity series is available in two other lengths as well: the smallest measures 7.06" closed and 40 cm open. The middle sized version measures 8.25" closed and 50cm open. I'd be willing to bet that before long, all measurements will be in metric.
ASP also manufactures a number of carry systems for your baton.
There is a wide variety of scabbards in hard plastic and softer nylon available to fit all sizes of your baton. All of that is well and good, but in the end it's really all about how well the impact tool works, right? Design upgrades are all appreciated and certainly of value, but does the easier closing mean less strength open? Will it still impact a bad guy the same way without fear of damage to the baton?
To test the Talon Infinity batons I wrapped my heavy bag in several layers of denim (because I was hoping not to tear the bag with the baton) and then laid into it. (I couldn't find a volunteer that would let me hit them with the baton to test how it felt.) The impact to the bag felt noticeably heavier using the steel Talon (to me) but the impact with the aluminum Talon was no less noticeable. I believe that using the lighter weight baton means you need to focus more on technique, striking surface and striking target. While I'm not an ASP Instructor, these techniques / targets / striking surfaces can be better discussed and taught by those certified to do such.
It was certainly easy to make that heavy bag jump. The Talon Infinity series opens easily, delivers well and closes just as easily. The answers to my questions: Does easier closing mean less strength open? Not at all. I experienced no lack of secure delivery of blows and no matter how hard I swung the baton to impact the bag, it still closed easily with a push of the button and light pressure on the shaft to collapse it. I was very pleased with the function and energy delivery overall.