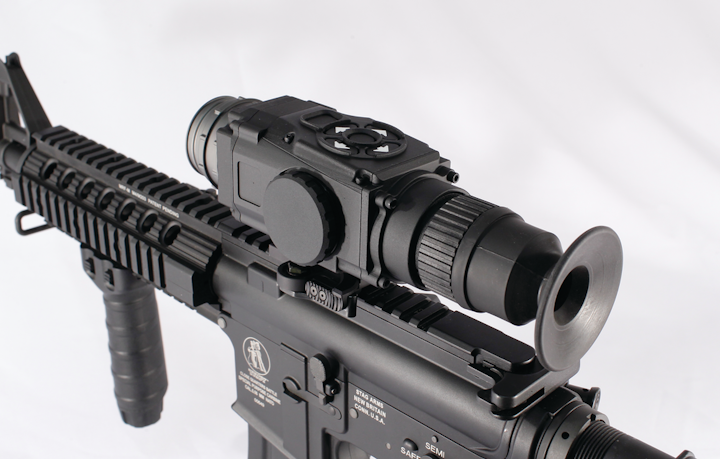 American Technologies Network introduced another model in their ThOR series of thermal optical rifle scopes; the ATN ThOR-640. The ATN ThOR series of thermal imaging scopes are based on the same 320 x 240 high resolution microbolometer core technology used by the US Military and law enforcement agencies now made available to civilians in a 640 x 480 resolution in the ThOR-640 model. The new ATN ThOR-640 is a small, compact and lightweight thermal vision weapon sight that can be also used as a weapon-mounted scope or as a hand-held model. The ThOR-640 provides amazing image quality through total darkness, fog or smoke. Darkness, camouflage or bright lights will not affect the sensitivity of these units. The ThOR-640 features a digital menu that gives you a variety of options and adjustments allowing you to customize your system. From reticle options to reticle colors, the ThOR provides a custom display for any mission from private security scenarios to viewing the great outdoors.
The ThOR-640 with rugged MIL-SPEC lens features several lens options, as well as, Fast or Enhanced Imaging capability and E-Zoom to expand the optical magnification. The ATN ThOR-640 is available in two different optical powers; 1.5x or 2.5x. The digital zoom option doubles the magnification. The scope also comes with precision digital windage and elevation adjustments and a MIL-STD-1913 Picatinny Rail quick release mount. 
ATN ThOR-640 Features:
640x 480 resolution
Uncooled VOx Microbolometer technology
Polarity single button modes: black on white, white on black, 5 different color settings
E-Zoom
800 x 600 OLED display
High resolution OLED Microdisplay
Available in 30hz Fast Image frame rate and 60hz Enhanced Image frame rate
Easy to use digital controls
Interchangeable reticle patterns with  push of the button
Digital brightness control
Video output with RCA cable
Precision digital windage and elevation adjustments
Rapid start up in 3 seconds
Up to 4 hours of operation with two CR123 lithium batteries
Quick release Picatinny mounting system
One-Year Warranty 
Request More Information
Fill out the form below to request more information about ThOR-640 Digital Thermal Imaging Weapon Sight.
---