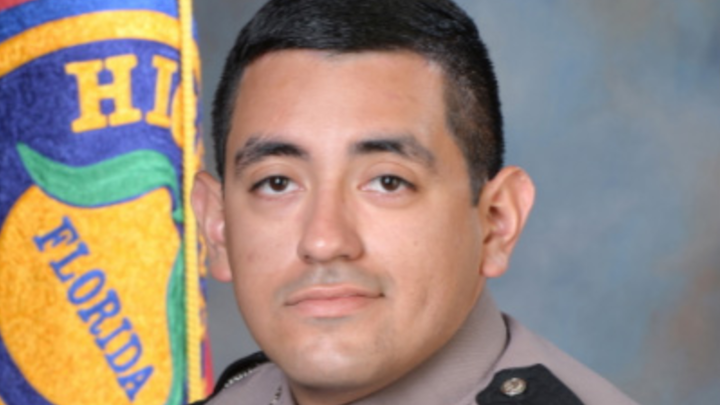 Florida Highway Patrol
PENSACOLA, Florida -- A Florida Highway Patrol trooper jumped into action to rescue a teenager from a burning home over the weekend.
Trooper Angel Luna was on patrol as he was driving south on Blue Angel Parkway around 4:30 p.m. Sunday when he spotted a woman waving her arms trying to flag him down, according to The News Journal.
Dawanda Thomas told the trooper that her home in the 1200 block of Blue Angel Parkway was on fire and that her 19-year-old son, Dajuan Jenkins, remained inside.
The 26-year-old Luna knew that he had no time to spare.
"It was just, go and do it," Luna told the newspaper. "It was an autopilot type of thing."
The trooper said that half of the porch was on fire and that there was a lot of black smoke.
Luna used the fire extinguisher he keeps in his patrol vehicle to control the flames, but the extinguisher ran out chemical spray as flames continued to spread.
After locating the teen's bedroom, Luna bashed the window open with the empty fire extinguisher and looked inside, was unable to see anything.
As he called the boy's name, he heard and faint reply and cleared the broken glass from the windowsill when a hand appeared up and out of the smoke.
"His hand came through the smoke and I grabbed it and pulled him," he said.
The 19-year-old had inhaled smoke and chemicals, but made it out without suffering burns.
"Trooper Luna's actions exemplify our motto of 'courtesy, service, protection," Florida Highway Patrol spokesman Lt. Robert Cannon said. "We are dedicated to the protection of Florida's citizens, not just on the highways but wherever they may be."