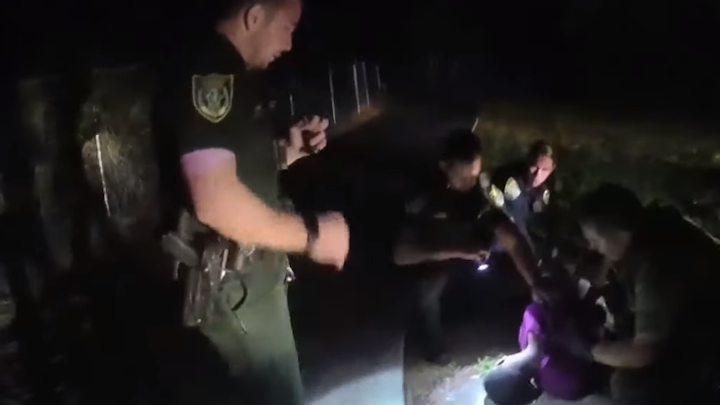 Flagler County Sheriff's Office
BUNNELL, Florida -- A Flagler County Sheriff's deputy was administered Narcan after he and a Bunnell police officer were exposed to an unknown  narcotic over the weekend.
Law enforcement officers responded to 210 North Fig Street on a call regarding a possible burglary on Nov. 2 when the incident occurred, according to a news release.
Officer Jennifer Baker made contact with the victims after arriving on the scene while Deputy Gibson Smith located and secured the suspect, identified as Jerrold Burnham. Deputies located a capped hypodermic needle with a light brown substance in Burnham's pocket along with a silver metal spoon with a burnt residue.
Officials said that Burnham began to tense up and grab the fence yelling that he would not go back to jail and began to resist arrest. During the struggle Smith's protective glove ripped.
Burnham then began convulsing and fell unconscious. Deputies contacted EMS to transport Burnham to the hospital. He was later be booked at the Sheriff Perry Hall Inmate Detention Facility by the Bunnell Police Department on a variety of charges after being medically cleared by the hospital.
Immediately after detaining Burnham, both law enforcement officers fell ill. Officials said that Smith's pupils became abnormally pinpointed, his face was pale and nauseous and he began to vomit.
A second EMS unit was dispatched to assess Smith's and Baker's conditions. After a check by EMS, Smith was administered Narcan for narcotics exposure and transported by ambulance to Advent Health Palm Coast for follow-up care. Once at Advent Care, Deputy Smith and Officer Baker were treated for exposure to an unknown substance.
A full toxicology screening was conducted in an attempt to identify the substance that they were exposed to.
"Our men and women in uniform face countless dangers every day," Flagler County Sheriff Rick Staly said in a statement. "When law enforcement officers answer a call, they never really know what they are walking in to. They only know that they could be putting their life on the line to save someone else. I saw both of them at the hospital and you could tell they had been exposed to a very dangerous narcotic, probably heroin laced with something. I am thankful that Deputy Smith and Officer Baker are going to be okay. This could have had a very different outcome."
Smith and Baker were both treated and released from Advent Health Palm Coast. Additional charges for Burnham are pending.