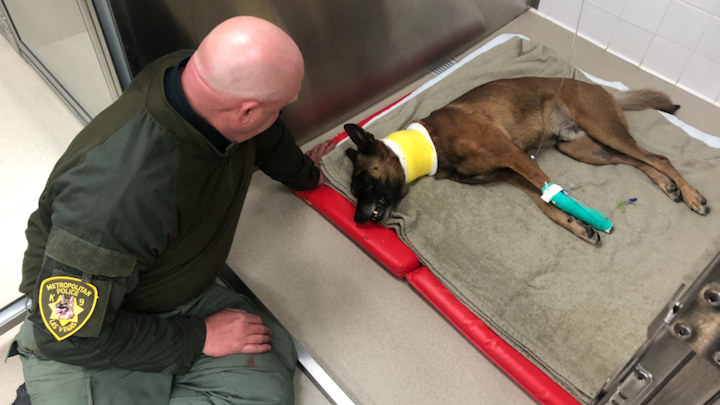 Las Vegas Metro Police Department
LAS VEGAS -- A Las Vegas Metro Police K-9 is recovering after being attacked by a suspect Friday night.
K-9 Hunter was attempting to take a suspect into custody during a SWAT standoff in the 7300 block of South Eastern when he was stabbed multiple times in the neck, according to a news release.
Hunter, a Belgian malinois who has been with the department for 7 years, was transport to a local animal hospital where he was treated for his wounds.
Officials said that the suspect's blade broke at some point during the assault when it struck the dog's collar, making it harder for the wounds to penetrate deeply.
"After being stabbed multiple times by a suspect this past weekend, we're pleased to report that K-9 Hunter is doing extremely well," the department wrote in a Facebook post. "Working is the activity that makes him the happiest -- and if recovery continues going well, he'll be returning to service in a matter of weeks! Go Hunter Go!."