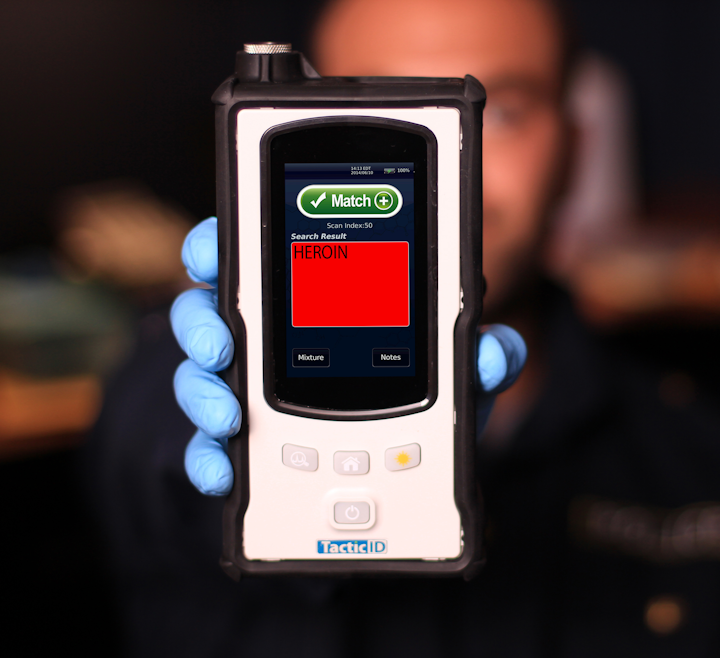 B&W Tek's TacticID handheld spectrometer has the proven capability to identify street heroin samples.
The TacticID system has the industry's largest on-board library of narcotics, pharmaceutical materials and cutting agents along with thousands of hazardous and common chemicals, explosives, and more. The system delivers fast and accurate on-site identification of unknown substances in seconds with clear warning signals and safety information.
The new TacPac accessory for the TacticID system is a custom adaptor that can be used with of SERS (Surface Enhanced Raman Spectroscopy) consumables. The SERS consumables utilize a commonly available solvent and isolate the heroin sample, enabling the 785nm TacticID device to identify heroin and its components quickly and easily. It is known that conventional 785nm Raman spectrometers are challenged by fluorescence that is inherent to certain specific samples. Due to the high fluorescence in most heroin street samples, many handheld devices alone have had difficulty with accurate identification of heroin, especially in mixed samples, without the help from other technologies.
In the United States and around the world, the abuse of heroin is a fast-moving epidemic. In the United States alone, usage jumped more than 63% between 2002 and 2015, with increases seen among men and women, most age groups, and all income levels. The biggest increases have occurred in groups with historically lower rates of heroin use, including women and people with private insurance and higher incomes. As heroin use has increased, so have heroin-related deaths. From 2002 through 2015, the rate of heroin-related overdose deaths has quadrupled.
With the release of the new TacPac identification kit for TacticID, law enforcement agencies around the world now have a new tool to fight this ever-growing threat. B&W Tek is proud to contribute products that further help fight to make our world a safer, more secure place.
Request More Information
Fill out the form below to request more information about TacticID - with TacPac Handheld Heroin Identifier.
---