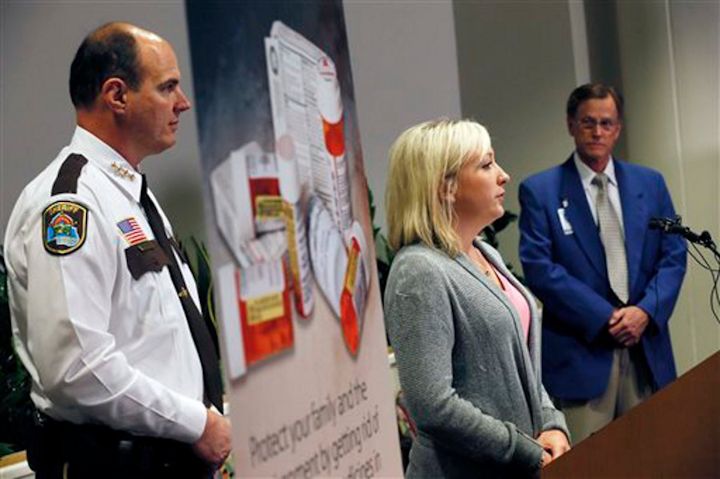 AP Photo/The Star Tribune, Jerry Holt
Heroin deaths and overdoses surged to record levels in the Twin Cities metro area last year, leading officials to warn Thursday that the toll could climb even higher in 2013.
"The supply of heroin has never been greater ... it's limitless in the state of Minnesota," said Carol Falkowski, a former state chemical health director.
Hennepin County, which saw drug seizures double from 2010 to 2012, recorded 37 deaths in 2012 -- up from four in 2008. So far this year, 15 people have died of heroin overdoses in Scott, Dakota and Hennepin counties, according to the Hennepin County medical examiner's office, which handles many autopsies from beyond its own boundaries.
"It's a very tough battle," Hennepin County Sheriff Rich Stanek said at a news conference Thursday at North Memorial Medical Center in Robbinsdale. "This isn't just one problem for one county. It's everywhere."
Part of the reason for the rise in heroin use is the increased use of prescription pills such as OxyContin and Vicodin, authorities said Thursday. People who abuse such medications often turn to heroin, which mimics the effects of pills but in Minnesota can be even cheaper and stronger.
The amount of heroin seized across the state rose 78 percent from 2010 to 2011, according to Department of Public Safety figures released last year. For at least the past three years, authorities report, Mexican drug cartels have flooded Minneapolis with high volumes of cheap and near-pure heroin, designed to increase demand.
'He took a risk'
One of the 37 people who died of a heroin overdose in Hennepin County last year was Nick Moore, a marathon runner and University of Minnesota graduate student with big plans to "save the planet" with his bioengineering master's degree, his mother said.
When the avid rugby player went to a doctor with an injury, he was given prescription pills that triggered a craving for heroin, which he had tried years before. He vowed to his sister he wouldn't yield to the desire, but a few months later, on Feb. 12, 2012, another shoulder injury had him injecting heroin so he could study that night pain-free.
He was found dead in his Minneapolis apartment from an overdose. He was 25.
"Nobody could believe that was Nick; it just didn't make sense," said his mother, Laura Moore, of Fridley. "He was in no way a recreational user. It was to relieve pain for that night. ... He took a risk; he just paid the ultimate penalty."
His story is part of a grim trend that shows no signs of slowing.
Minnesota Adult and Teen Challenge, which runs treatment centers across the state, set a record for admissions earlier this year. In March, Dakota County had its largest heroin bust in its history, seizing more than 2 pounds from an Apple Valley apartment. And emergency rooms at the Hennepin County Medical Center and North Memorial Medical Center are seeing more heroin and prescription overdoses.
"Just about every hospital in the state is seeing heroin overdoses; it's not just an urban problem," said Dr. David Roberts, who works in the North Memorial ER. "It's an enormous problem. [And] it's getting worse."
A deadly combination
Earlier this year, new data compiled by Falkowski showed that heroin and prescription pill abuse reached a record high in the Twin Cities in the first half of 2012, accounting for 21 percent of all addiction treatment patients, second only to alcohol. Heroin use has quadrupled since 2000, rising from 3.3 percent of addiction treatment admissions to 12.5 percent last year. Similar statewide data are difficult to track down.
While heroin has been around for years, dealers have adapted the drug from needle-injected forms to more popular methods such as snorted powder, Stanek said. Heroin can be up to 93 percent pure and cost only $1 a milligram -- "a deadly combination," he added.
For Amanda, 29, of Pine City, drug addictions morphed from cigarettes and alcohol to prescription pills and heroin.
"I was just digging a deeper, bigger hole for myself," Amanda, who declined to use her last name, said at Thursday's news conference.
Her family ties became strained, she stole to make ends meet and she resorted to living out of a garage with her boyfriend as they shot up 80-mg pills of OxyContin every day, arriving high at her job as a hair stylist. In debt and with no place to turn, she entered Minnesota Adult and Teen Challenge in Minneapolis. She's now nine months sober, hoping to graduate from the program this fall.
"It's definitely changed my life," she said.
'Such an unpredictable drug'
Heroin users come from all economic backgrounds and everywhere from the affluent west metro suburbs to rural Minnesota. According to state data released earlier this year, most patients admitted for heroin overdoses in Minnesota in 2012 were white and between 18 to 25 years old; men outnumber women three to one. In Dakota County, of seven heroin deaths last year, most were men, three were in their 40s and the rest ranged in age from 18 to their 30s, Sheriff Dave Bellows said.
But a strong stigma remains associated with heroin, preventing some from speaking out, Laura Moore said. "There are a lot more families touched by this, but it's so devastating ... you know that your child was so much more than this one dose of heroin that killed him," she said.
Although she tracked down the dealer who sold the heroin to her son, she was told the county wouldn't have enough evidence to prosecute him. Now, she wants other young adults to know that using heroin at all can be deadly.
"It's such an unpredictable drug," she said, her voice breaking as she spoke of her son's death. "As a parent, it's the guilt of, what did I miss? I didn't get to help him. I didn't get to put him through treatment. I didn't get to give him a chance."
Copyright 2013 - Star Tribune (Minneapolis)
McClatchy-Tribune News Service