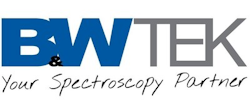 19 Shea Way
Newark, DE 19713
The TacticID from B&W Tek, Inc. is a field-ready handheld spectral analysis instrument designed for non-contact forensic analysis by a variety of safety personnel including law enforcement, bomb squads, hazmat teams and more. The TacticID utilizes lab-proven Raman spectroscopy, allowing users to get real-time actionable identification of unknown chemicals, explosives, narcotics and many other substances while reducing operational uncertainty and response time without ever compromising the integrity of the sample or the chain of evidence. The TacticID was created from the ground up to enable safety personnel to tackle their job with the most advanced technology available, enabling fast, accurate, secure threat identification all in a small, lightweight handheld form factor.
Request More Information
Fill out the form below to request more information about B&W Tek.
---