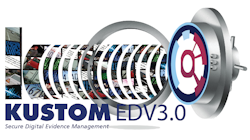 Kustom Signals Inc.
The Kustom Signals, Inc. Eyewitness Data Vault 3 (EDV 3) and Eyewitness Kloud Storage offers cloud storage options with a unique ownership promise not offered by other vendors.
EDV 3 is a powerful digital video management solution that works in conjunction with Eyewitness Kloud Storage, to automatically and securely store digital evidence to Microsoft Azure Government (a FedRAMP and CJIS compliant cloud service). Offering a contemporary look and feel, EDV 3 simplifies learning and enables efficient use. It supports simple and advanced searches, multi-camera synchronous playback, easy file sharing via a secure link, and provides access to authorized users. A/V redaction capabilities are built into EDV 3 and provided at no additional cost.
The Kustom Signals Kloud Ownership Promise ensures that agencies are no longer held hostage to service and storage contracts. Kustom Signals honors Agency ownership of video assets and does not require multi-year commitments. In the event an agency chooses to discontinue using Kloud Storage services, Kustom Signals will provide portable media with a copy of your video assets at no extra charge. As a result, every agency the company services receives seamless, continued use of in-car video and body-worn video solutions and continued file management functions such as a searchable database.
Request More Information
Fill out the form below to request more information about Eyewitness Data Vault 3 Back Office Software Platform.
---