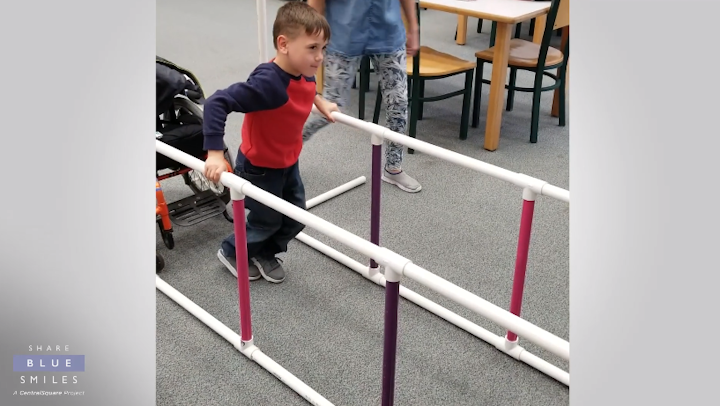 ShareBlueSmiles/CentralSquare
Lake Mary, Fla., Nov. 21, 2019 (GLOBE NEWSWIRE) -- CentralSquare, a leader in public sector technology, announced the release of three new feature stories as part of ShareBlueSmiles, a national campaign whose mission is to deepen trust between law enforcement and the communities they serve. Since June 2019, ShareBlueSmiles has served to raise awareness of positive, compassionate stories about law enforcement personnel going above and beyond by spotlighting their good deeds across various media channels. ShareBlueSmiles aims to bring positive interactions that occur daily between citizens and police to the forefront and recognize the personal impact these officers have in their communities. Highlights from the three recent feature ShareBlueSmiles stories include:
In Arvada, CO, a school resource officer with the Arvada Police Department helped give a young boy with cerebral palsy the strength to walk by personally building him an 8-foot-long strength trainer. The heartwarming story of a young boy's determination to overcome adversity and a school resource officer's selfless act to help captured the hearts of Americans, and recently ABC News named the officer its Person of the Week. Watch: https://sharebluesmiles.com/one_step_at_a_time-colorado_school_resource_officer_helps_wheelchairbound_boy_learn_to_walk/
@ArvadaPolice Officer Brad Gagon, School Resource Officer is ABC World News Tonight's Person of The Week. Congratulations Officer Brad!!! pic.twitter.com/AkWdU7Ba9R

— Arvada Police (@ArvadaPolice) October 12, 2019
In Cocoa Beach, FL, a young boy who was a big fan of law enforcement became frightened of the police when a SWAT team responded to an emergency in his neighborhood. When the Cocoa Police Department received a request from the father to help his young son rebuild his trust and confidence in law enforcement, an officer arrived with toys, books and games – just one small act of kindness to make sure children in the community had a positive experience with police. Watch: https://sharebluesmiles.com/cocoa_pd_helps_young_boy_trust_police_again_after_swat_scare/
In Flagler County, FL, a Sheriff's Office commander provides a little bit of magic to local children. By hosting Christmas toy drives and parties and bringing his K-9 to visit a residential facility for mothers and children over the years, the commander has made sure that each and every child has positive memories to last a lifetime. Watch: https://sharebluesmiles.com/flagler-sheriffs-office-helps-children-feel-at-home-with-joy-and-gifts/
"These latest ShareBlueSmiles stories highlight just some of the above-and-beyond, selfless acts our law enforcement partners engage in every day," said Steve Seoane, CentralSquare's President of Public Safety. "We deeply believe that these impactful contributions should be noticed, reported and acknowledged more often. We're proud to bring the countless positive interactions between law enforcement and citizens that occur on a daily basis into the spotlight."
People are encouraged to submit stories highlighting law enforcement personnel's acts of above-and-beyond service in their communities at sharebluesmiles.com.
About ShareBlueSmiles/CentralSquare
ShareBlueSmiles, inspired by CentralSquare and law enforcement partners nationwide, is a movement that spotlights positive, compassionate stories involving law enforcement and citizens across North America. CentralSquare Technologies is an industry leader in public safety and public administration software, serving over 7,650 organizations from the largest metropolitan city to counties and towns of every size across North America. CentralSquare's technology platform provides solutions for public safety, including 911, dispatch, records, mobile and jail. For public administration agencies, CentralSquare provides software for finance, HR/payroll, utilities, citizen engagement, community development, property tax, municipal services and asset management. For more information, visit CentralSquare.com.