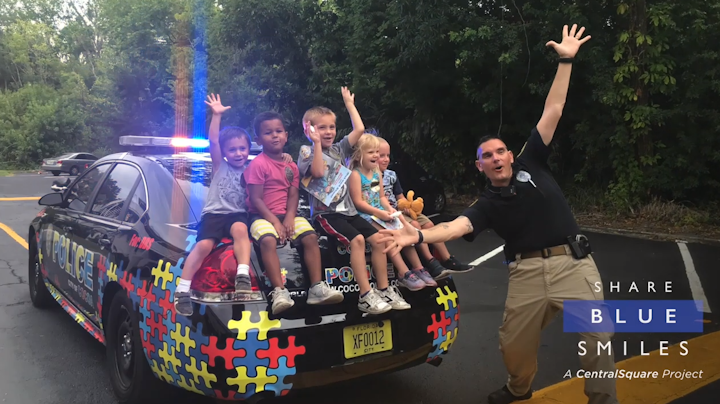 CentralSquare Technologies
LAKE MARY, Florida -- A software company that specializes in trying to make officers' lives easier is highlighting the efforts of officers who go above and beyond in their communities.
In June, CentralSquare Technologies launched ShareBlueSmiles; an initiative promoting under-reported original stories about officers from law enforcement agencies across the country who have gone out of their way to connect with their communities.
During a recent event held at the company's headquarters that was attended by Officer.com, the company played few of the videos for those in attendance while promoting the mission of the program.
"We want to broadcast and share these officers doing good things," Jatin Atre, Chief Marketing Officer at CentralSquare, said. "We have to start with trust. We want to have those stories."
When the ShareBlueSmiles team is made a aware of a story submitted to them, they share it on their Twitter page. When the opportunity presents itself, the team will send a camera crew out to go more in depth with the officer and those involved and post those videos on their YouTube page.
One of the videos shown was about a 7-year-old with Cerebral Palsy from Arvada, Colorado named Roman. A wheelchair was the boy's primary mode of transportation. When School Resource Officer Brad Gagon with the Arvada Police Department was told that Roman could learn to walk with some assistance, he went above and beyond to help. Gagon built an 8-foot long strength trainer using PVC pipe in his garage by hand.
In another story covered by the ShareBlueSmiles team, a father of little boy in Cocoa, Florida, who was a big fan of law enforcement, reached out to police after the boy became scared when a SWAT team responded to an emergency in his neighborhood while he was outside playing. The father said that the boy became frightened of police and didn't want to play outside anymore. Cocoa Police Officer James Salley arrived at the boy's home with toys, books and games in the department's "puzzle car" -- an autism awareness patrol car with colorful puzzle pieces on it. Salley's small act of kindness made sure the boy and children in his neighborhood had a positive experience with police.
Other initial stories highlighted by the program include a police department that joined a birthday party for a lonely 7-year-old boy, an agency that replaced Christmas gifts when they were stolen and an officer who diligently followed up and prevented a heart attack.
"By spotlighting the above-and-beyond service illustrated by these stories, we hope to help bring these daily interactions to the forefront and recognize the personal impact these personnel have on their communities," CentralSquare CEO Simon Angove said in a statement. "We're proud to play this small role in helping to deepen trust between law enforcement and the communities they serve."
Law enforcement and community members across the country are being encouraged to submit their own stories highlighting law enforcement officers' acts of above-and-beyond service at sharebluesmiles.com.