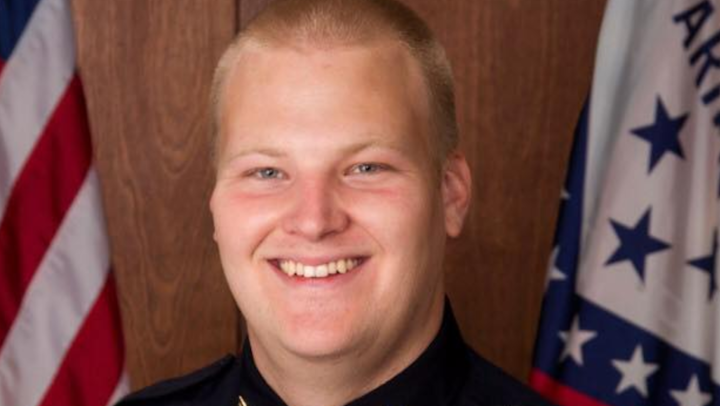 Fayetteville Police Department
FAYETTEVILLE, Arkansas -- A Fayetteville police officer was fatally shot behind the department Saturday night.
Gunshots were heard behind the building around 9:42 p.m. and officers inside the police department immediately responded and heard additional gunshots, according to a press release.
Officers located an armed suspect directly behind the police department, later identified as 35-year-old London T. Phillips. Phillips had a confrontation with officers resulting in the officers firing their weapons at the man. Following the shooting, officers located Officer Stephen Carr shot inside his patrol vehicle, while parked at the police department.
Officers immediately rendered aid to both the officer and suspect. Fayetteville Fire Department and Central EMS arrived on scene and began life saving efforts for both the officer and suspect. Both the wounded officer and suspect succumbed to their injuries and died at the scene.
"Evidence shows that Officer Carr was ambushed and executed while sitting in his patrol vehicle. Preliminary investigation also shows that two officers, whose names will not be released at this time fired at the suspect," the police department said in statement.
The Fayetteville Police Department has requested that the Washington County Sheriff's Office, and the Federal Bureau of Investigations (FBI) conduct an independent investigation.
Carr joined the Fayetteville Police Department in April of 2017 and was assigned as a patrol officer, currently working in the Dickson street entertainment district.
"(Officer Carr) served our community with dedication and professionalism for the past 2 ½ years, he is a HERO," officials said in a statement. "We would like to thank our community for their outpouring of support, along with our local, state, and federal law enforcement partners for their quick response and assistance. Our thoughts and prayers are with Officer Carr's family during this tragic time."