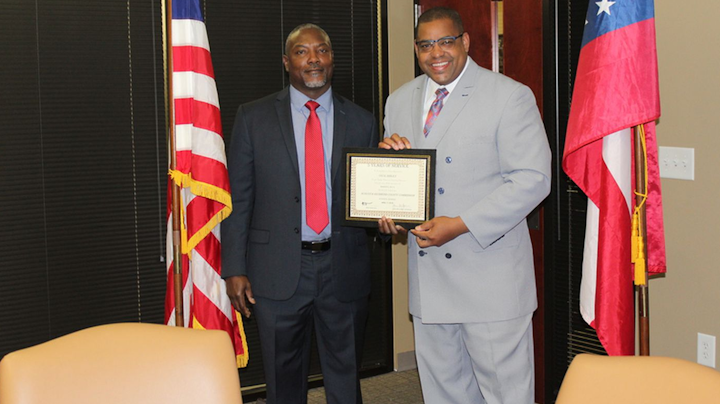 Richmond County Sheriff's Office
AUGUSTA, Georgia -- A Richmond County deputy was shot and killed Tuesday night while conducting a routine patrol with a narcotics unit in Augusta.
The deputy, Investigator Cecil Ridley, was fatally injured at a gas station on the corner of 12th Street and Martin Luther King Jr. Boulevard, Sgt. William McCarty with the Richmond County Sheriff's Office told AJC.com.
Ridley was conducting proactive patrols to curb gun violence in the area, which began last week, McCarty said. Gunfire erupted after officers encountered several people at the Augusta Mart gas station.
His suspected shooter was identified by the GBI as 24-year-old Alvin Theodore Hester Jr. According to the GBI, another officer first tried to confront Hester inside the gas station and Hester turned to leave.
He allegedly shot Ridley as the deputy was walking through the front doors, GBI special agent in charge Pat Morgan said in a news release. The other officer returned fire as Hester continued out into the parking lot, where he was confronted again.
Both the officer from inside the store and an officer in the parking lot fired at Hester, striking him, Morgan said. Ridley, who was unable to return fire, later died of his injuries. 
Hester was taken to Augusta University Medical Center, where he is undergoing treatment Wednesday morning.
Ridley, 51, is the third Georgia law enforcement officer killed by gunfire in 2019 and the seventh to die in the line of duty. 
Nationally, he is the 108th officer killed in the line of duty this year, according to the Officer Down Memorial Page, which tracks law enforcement deaths in the U.S.
It is unclear how long Ridley worked at the sheriff's office, but he received an award in 2018 for five years of service.
This is the 77th officer-involved shooting investigation the GBI has opened this year and the second one this week.
"Our hearts are with the family, blood and blue, of Investigator Cecil Ridley who paid the ultimate sacrifice in the line of duty," the state agency said in a tweet. "We thank you for your service and will continue to pray for your family, friends, and the Richmond County Sheriff's Office."
The 76th investigation was prompted by a shooting in Monroe on Monday night after an altercation at a hotel, AJC.com previously reported. A man was shot twice by police after he allegedly refused officers' commands and accelerated a Jeep.
RELATED: Officer responds to hotel dispute, shoots man twice, GBI says
The Atlanta Journal-Constitution also tracks officer-involved shootings that don't involve the GBI, and those numbers sometimes differ from the GBI's tally.
— Please return to AJC.com for updates.
In other news:
———
©2019 The Atlanta Journal-Constitution (Atlanta, Ga.)
Visit The Atlanta Journal-Constitution (Atlanta, Ga.) at www.ajc.com
Distributed by Tribune Content Agency, LLC.