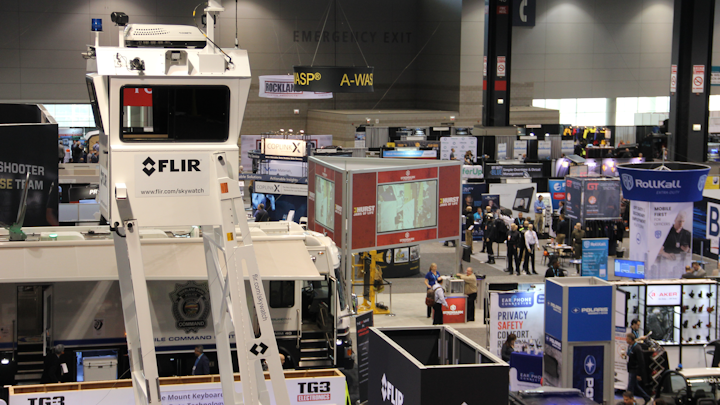 Officer Media Group
This year, like so many others, when my team traveled to Chicago for the International Association for Chiefs of Police (IACP) conference, we were inundated by the hype about protesters, threats, etc. For those of you who have never been to IACP but anticipate going someday, ignore the "protester" hype. During our three days in Chicago, traveling back and forth from the hotel to McCormick Conference Center, not a single protester was observed. The shuttle service was efficient and comfortable and the conference was well coordinated.
The show floor stretched some 60 aisles (give or take a few) and you could find everything on display from software to helicopters. Of course, there was also body armor, uniforms, weapons, communications devices and more. There were, in fact, so many "big" vendors with huge booths, it was almost easy to focus on them to the point of not noticing some of the smaller ones. For me, some of the most interesting products were the single booth exhibitors.
In one of the larger booths, Laser Technology Inc., there was information about a LIDAR product explained called TRU-Vision which uses their DBC Tailgating firmware. With over 35 years in law enforcement, I had never seen this before and would love to see it used far more often on every roadway. Straight from their website:
This tailgating firmware validates violations by capturing the individual speed of two vehicles traveling in the same line and within close proximity of each other. The laser speed device then calculates the time and distance between the two moving vehicles. It's the perfect aid for officers issuing tailgating violations, also known as a type of aggressive driving, and keeping our highways safe.
That's something we need more of (in this author's opinion).
PPE and health
In a smaller booth was a set of in-ear hearing protection from OTTO Engineering Inc. With two types of earplug attachments (foam and rubber/silicone) to ensure a proper fit, these hearing protectors amplify low-decibel sound, reduce higher level decibel sound and completely remove high/damaging decibel level sound. They are delivered in a hard case not much bigger than a deck of cards and the case itself recharges the devices. The case reportedly only needs recharging every few months.
The HeartMath Institute was full of valuable information regarding heart health, heart rate variation and flexibility and how all of this can/might relate to stress levels/disorders. The importance of this information is how, if understood and learned early enough in a law enforcement career, it can reduce the potential long term stress and negative health impacts of our profession. One huge benefit to that is a reduced number of suicides.
There were plenty more small booths worth visiting but every attendee should have made time for both offer trauma care products: Chinook and North American Rescue. Both brands have their own followings but the important thing is that, in the world of Active Shooter/Killer response, while we've focused forever on fast entry and attacker neutralization, we have to include and expand our focus on trauma care for the casualties immediately after the scene is secured. That also includes being able to treat ourselves or our workmates.
My advice
If you skipped IACP because you didn't think it was worth the travel, the expense, the protesters (that seemed to not be there) — rethink. It's in New Orleans for 2020. You might want to check it out.