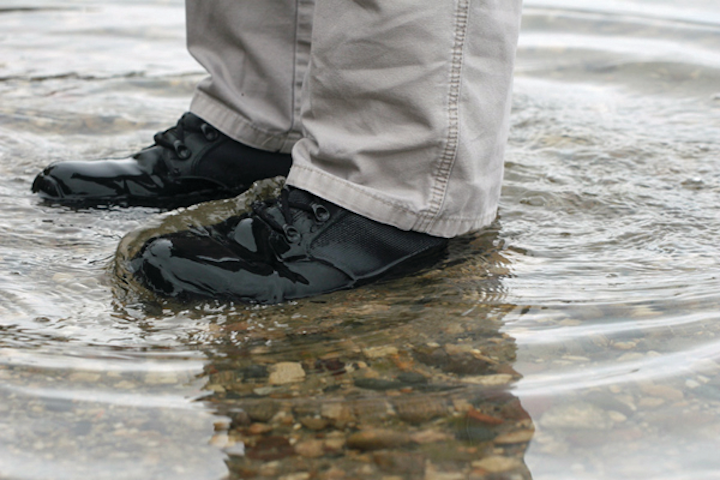 So, there I was… walking around one of the most formidable and dense urban jungles known to man: a convention center in Atlantic City while attending the Police & Security Expo.  Yes, obviously I'm joking but anyone who has walked a law enforcement expo knows how hard it can be on your feet.  It's just one example of an experience where you realize, during and after the fact how important your footwear can be.  While I was there I was introduced to ALTAI gear, a company I'd not previously heard of that is manufacturing boots.  I secured a pair for wear testing and here we are.
Now, let me say this: typically, when it comes to wear testing or field testing a product, especially in a manufacturing field where there are so many companies, I tend toward the outlook of, "If there's nothing unique about it, what makes it different?"  Think about it.  How many times do you see a product made by a company that is famous for manufacturing a different product and all of a sudden comes out with a pair of boots?  It's like a car company that OEMs tires.  Why?
In this case, however, I learned that ALTAI makes boots and they do have a couple unique design features that caught my eye.  I wasn't sure, at first, how those features would affect comfort and performance, but the proof is in the… well, wear test.  Two months later I've put more than a few miles on this pair of boots and I've been quite surprised at the results.
First let's take a look at some of the published information ALTAI provides about the boots.
• Weight: ALTAI® is light at 650 grams – 23 ounces
• Highly functional upper: SuperFabric®
• Abrasion Resistant
• Quick drying
• Stain Resistant
• Air Permeable
• Vibram® outsole – hiking/treking
• Figure 8 laces
• Speed lacing – metal eyelets
• Padded nylon tongue
• Waterproof leather toe, Polishable
If you look at the ALTAI Technical Specs page on their website you see that the two primary components of their boots called out are SuperFabric® and Vibram (outsoles), both mentioned in that list above.  Straight from their website I bring you these excerpts:
Vibram:
Vibram is a well-recognized and trusted name for quality, long-lasting outsoles that perform to the highest degree. Featuring a non-marking, slip resistant surface that works in wet or dry conditions over a variety of terrains, the Vibram outsole on every ALTAI boot ensures maximum performance in even the worst circumstances.
SuperFabric®:
SuperFabric®® technology consists of highly abrasion resistant and durable materials that are made to withstand harsh environments and rough applications. The flexible fabric has an overlaying surface of tiny, evenly-spaced "armor" plates, combining for an amazingly light, breathable material that dries rapidly and resists much of the normal wear and tear of daily use.
I've seen SuperFabric® used on other boots, but not for the whole upper.  It was always just used in specific areas to increase wear resistance.  The use of SuperFabric® for the whole upper of the boot was what caused my initial concern about comfort.  It seemed to me that the SuperFabric® upper wouldn't be as flexible, and therefore not as comfortable, as a "standard" nylon upper.  Time and wear testing proved me wrong.
As I mentioned above, I have put more than a few miles on these boots.  Let me make a couple observations about the things I liked, both from the beginning and as I wore them through the testing.
The top two pairs of lace eyelets are "speed" hooks.  Instead of being closed eyelets they are hooked so you can lace and unlace your boots faster, at least for those top two spots.  I like that.  If I can unlace the boots that far – about 2.5" down the boot – then I can loosen the rest easily enough and get my foot in and out.  It's not as fast as a side-zip boot, but I'm not a fan of zippers on my boots anyway.
The laces themselves aren't typical smooth straight laces.  I don't know if there's actually a name for the type of laces but I've only ever seen them on one other pair of boots.  The laces seem almost crimped and, when tied, provide a more secure friction hold, lace against lace.  I've always tucked my tied laces into the top of my boots anyway (old Army trained habit) but knowing that, I intentionally didn't tuck these for several days of the wear testing.  I fully expected that the laces would come loose but they never did.  Another point for ALTAI's boot design.
The boots were comfortable enough during initial testing.  Within a week they were fully broken in and I never experienced any wear marks on my feet.  Let's be honest: with some boots, you don't break them in – they break you in.  That wasn't the case with the ALTAI's.
Most of my wear testing was done in areas common to law enforcement work: streets, sidewalks, inside buildings, and sometimes in grassy areas.  It occurred to me that while such wear testing would be adequate, it wasn't really telling about the durability or full functionality of the boots.  So… I also wore them to hike in a local park where the paths are an ugly mix of rock, dirt and sand.  I did that on the day after several days of heavy rain so it was really more of a hike on rock, in mud and across wet sandy mush mix.  I noticed a couple important things during that hike:
First, the soles shed the yuck pretty quickly and easily.  I didn't have to bang them off.  When I got home I did have to rinse the top and sides to get off the more finely granulated junk.
Second, the boots moved well with my ankles, providing good support throughout the twisting, turning hike across inconsistently hard, soft and sometimes mushy trail.
Third, my feet didn't get wet even though I stepped in several puddles that were ankle deep, and the boots themselves were completely dry the next morning.
All in all I was impressed with the fit and function.  The initial concerns I had about the SuperFabric® uppers proved baseless.  Some folks might state a preference NOT to have metal in the lacing system, but that's really a matter of personal preference.  The only time it would matter to me is if the boots set off a metal detector and, more often than not, you have to take your boots off for inspection prior to entering a secure area anyway (think about airports).
You can find out more about the ALTAI MF Tactical Boots on their website.  With a posted MSRP of $160 the price is reasonable and the wear testing, in my opinion, proves them worth the price tag.
Stay safe!