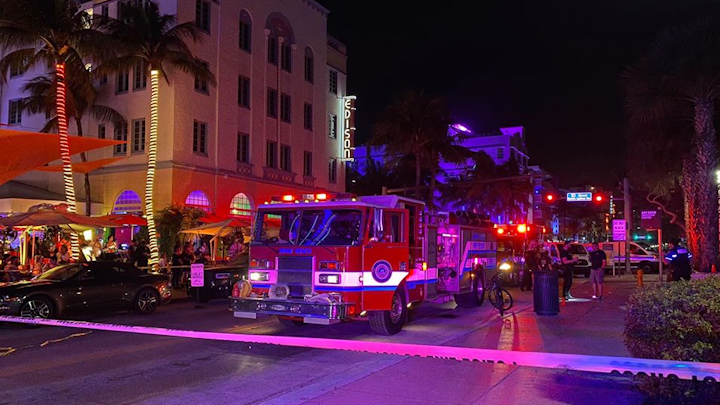 Miami Beach Police Department
MIAMI BEACH, Florida -- A fatal shooting sparked by the stabbing of an officer, police say, brought a violent interruption to the usual Saturday night on Miami Beach's Ocean Drive.
Miami Beach police say at 9:08 p.m., an officer making contact with a man at 10th Street and Ocean Drive, across Ocean Drive from the iconic Clevelander South Beach Hotel, was stabbed by him. Other officers shot the man.
Video circulating online appears to show the man sitting on a wall while holding a knife. He tumbles off the wall as if hit with a Taser and several officers approach. Suddenly, the officers jump back and fire several shots.
As of Sunday morning, the officer is in the Intensive Care Unit, but in stable condition at Jackson Memorial Hospital. The man who allegedly stabbed him died Sunday morning.
The man has yet to be identified, according to Miami Beach police. The officer's name hasn't been released.
The officer had been patrolling the popular beach-front promenade as part of the department's Operation Safe Streets initiative, a campaign to increase police visibility in the Entertainment District, said Miami Beach Mayor Dan Gelber.
Gelber, who visited the officer at Jackson Memorial Hospital, said the officer appeared to be in good spirits as he spoke with his family and friends at the hospital.
The Florida Department of Law Enforcement will investigate the shooting, per Miami Beach Police Department policy.
The timing and location of the shooting — three weeks before the Super Bowl and near where ESPN will be filming live coverage at the Clevelander — makes for unfortunate "PR" for the city, said State Rep. and former Miami Beach Commissioner Michael Grieco.
A former prosecutor with experience analyzing videos of police-involved shootings, Grieco said the videos he has seen appear to show that police were justified in their use of force. The videos show that the attacker was shot with a Taser before he stabbed the officer. Responding officers open fire after the stabbing, Grieco said.
"They followed protocol," he said. "I've watched about three or four videos of this now. It's pretty clear cut."
———
©2020 Miami Herald
Visit Miami Herald at www.miamiherald.com
Distributed by Tribune Content Agency, LLC.