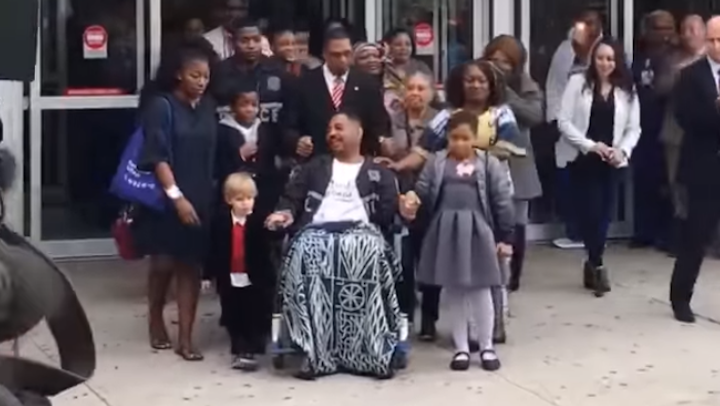 New York Police Department
NEW YORK -- The Brooklyn cop who shot dead a man who slugged him in the head with a chair left the hospital Monday afternoon after emerging from a coma.
Officer Lesly Lafontant, both eyes swollen shut, waved to dozens of cheering cops from his wheelchair as he left Brookdale University Hospital with his wife and four children at his side.
As the NYPD pipe and drums band played, the 21-year veteran was helped into a waiting van and driven home.
Lafontant, 53 had been in a medically-induced coma since shortly after the Friday night confrontation inside Goldmine Nail Salon in Brownsville.
Cops were trying to arrest Dewayne Hawkes, 26, for urinating in the salon's kitchen, after he was told he could not use the bathroom, when another man came running in and attacked Lafontant with a chair.
But the officer managed to squeeze off six shots, killing the suspect, T-shirt vendor Kwesi Ashun, 33, who relatives say was bi-polar. Hawkes ran off but was later arrested.
By Sunday, Lafontant was breathing on his own and alert.
His commanding officer, Captain Craig Edelman of the 73rd Precinct, said Monday that Lafontant is in "very high spirits" despite his injuries, which include fractured facial bones and neck and head trauma. He faces a long road to recovery.
"He epitomizes what a New York City police officer should be," Edelman said. "He's a tremendous family man. And it's nothing scarier than seeing an officer in the hospital under these conditions."
Pat Lynch, president of the Police Benevolent Association, praised the wounded officer's "inner strength" and dedication to public safety.
"I think the public should remember this picture of a police officer who walked into work that day but unfortunately had to be wheeled out of a hospital today," Lynch said.
"Twenty-one years in one of the busiest precincts in the city, because he cared about the community, he cared about his fellow police officers, and he was still on patrol," Lynch added. "He's out there doing God's work."
Ashun was accused in Oct. 2004 of using a knife to slice Officer James Sinnott's face from ear to neck. Another officer, Brian Risano, was injured as he and other officers tried to subdue Ashun, then 18.
Cops used clubs and pepper spray to subdue Ashun in the 2004 incident. He was then admitted to Kings County Hospital as an "emotionally disturbed person." His mother, now deceased, said at the time she was grateful for the officers' restraint.
———
©2019 New York Daily News
Visit New York Daily News at www.nydailynews.com
Distributed by Tribune Content Agency, LLC.