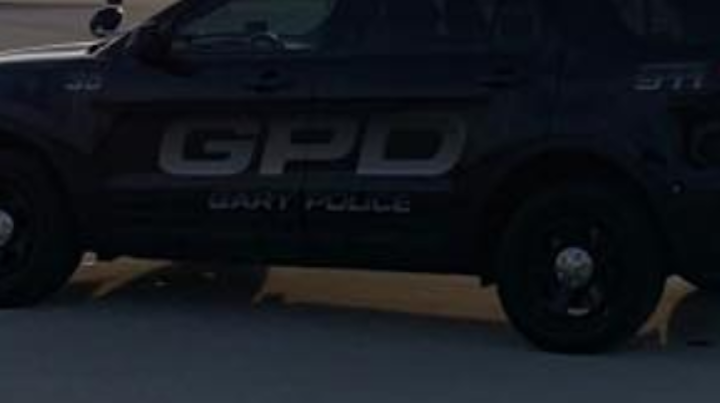 Gary Police Department
GARY, Indiana — A suspect was killed and two Gary officers were injured during a shootout Monday as a police SWAT team attempted to execute a warrant, Lake County Sheriff Oscar Martinez said.
"Upon SWAT entry into the home, it appears that the suspect fired at SWAT officers as they were making entry. Two officers were struck," Martinez said. "One of the officers that was struck by the suspect managed to return fire, killing the suspect."
The officers are both listed in stable condition and undergoing treatment, according to Gary police Lt. Dawn Westerfield. Mayor Jerome Prince said the officers were being treated at Methodist Hospitals Northlake.
The shooting happened in the 2400 block of Waverly Drive, where officers had the entrance to the Westbrook Apartments blocked off.
Westerfield identified the wounded officers as Cpl. John Artibey, a 14-year department veteran, and Cpl. James Nielsen, a 17-year veteran.
Nielsen was shot in the chest, with the round being absorbed by his bulletproof vest, and in his left arm, Westerfield said. She said Artibey was hit by shrapnel in his abdomen and chin.
The suspect, whom Gary police declined to identify, was described by Westerfield as a black male in his late 20s.
Sources with knowledge of the investigation say the suspect was a person of interest in a Merrillville hotel homicide.
The Lake County coroner reported that Betty Claudio, 44, of Gary, was pronounced dead Sunday afternoon at the Hampton Inn, 8353 Georgia St. in Merrillville. Police said the death was being investigated as a homicide.
Monday's shooting incident began with Gary officers assisting a Merrillville police investigation regarding a person of interest, according to Westerfield.
Westerfield said the suspect barricaded himself in a residence, and that Gary police called out a SWAT team at 1:50 p.m. Upon its arrival, officers began negotiating with the suspect.
After about two hours of negotiations, the SWAT team decided to enter the residence at around 4:20 p.m.
Westerfield declined to say how many times the suspect was shot.
Lake County's CSI is investigating the shooting.
———
©2020 The Times (Munster, Ind.)
Visit The Times (Munster, Ind.) at www.nwitimes.com
Distributed by Tribune Content Agency, LLC.