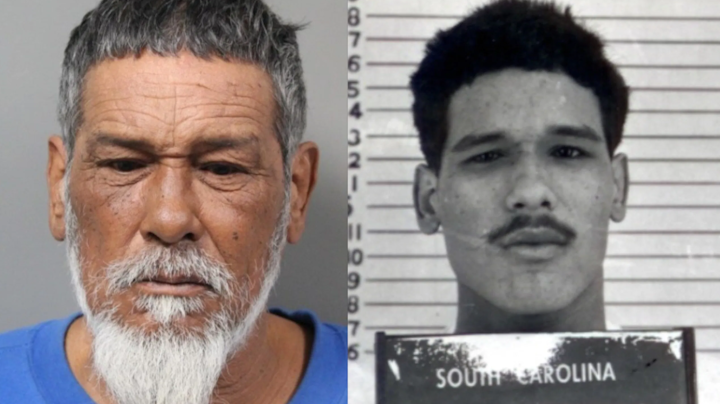 South Carolina Department of Public Safety
DOVER, Delaware -- A South Carolina inmate who escaped from prison following a 1979 armed robbery in Aiken County was captured Wednesday in Delaware where he had been living under an assumed name and identity.
Police arrested the fugitive while responding to a trespassing complaint at a convenience store.
Jose Chico Romero, now 64, was charged by police with public intoxication, loitering, third-degree criminal trespass, four counts of second-degree forgery, criminal impersonation and and being an out-of-state fugitive, according to a news release from the City of Dover Police Department.
Romero was taken into custody for public intoxication and trespassing at the time.
At the time of his arrest, Romero produced a Delaware state ID with the name Arnaldo Figueroa. This was the name he gave officers, as well.
During the arrest process, Romero also signed all of the legal documents using the name "Arnaldo Figueroa.".
On Monday, officers were contacted by the Delaware State Bureau of Identification, who advised that "Figueroa's" fingerprints came back as belonging to Jose Romero, who was a wanted subject out of South Carolina.
Romero was serving an 18-year sentence for armed robbery that had occurred in Aiken County when he escaped on Dec. 13, 1979, according to the South Carolina Department of Corrections.
At the time of his escape, Romero was assigned to a work crew in Anderson County and was being housed at the former Anderson County Stockade, the corrections department said.
The building was being used to house short-term local inmates and state inmates assigned to work in the county as part of the designated facilities program.
Romero was one of several state inmates assigned to live and work there. Under current classification rules, he would not have qualified for this work-release program, according to the department of corrections.
On Wednesday, officers located Romero and he was taken into custody without incident, according to the release.
Romero was committed to the Sussex Correctional Institution in Georgetown, Delaware, on a $18,000 cash bond and is also being held pending extradition to South Carolina, according to Dover police.
Once returned to South Carolina, Romero will be required to serve the remainder of his original sentence, which is about seven years, plus any additional time added for an escape conviction, according to the department of corrections.
Romero will also face an escape charge which can bring 10 to 15 more years, SCDC Director Bryan Stirling said.
"As we saw with other escapes, I don't care if you're gone for 40 minutes or 40 years, we're not going to stop looking for you," Stirling said. "You're going to always have to be looking over your back. What I want our folks to do is go on and do their time and become productive members of society."
Matthew Enfinger is the crime and courts reporter with the Aiken Standard. Follow him on Twitter: @matt_enfinger
———
©2020 the Aiken Standard (Aiken, S.C.)
Visit the Aiken Standard (Aiken, S.C.) at www.aikenstandard.com
Distributed by Tribune Content Agency, LLC.