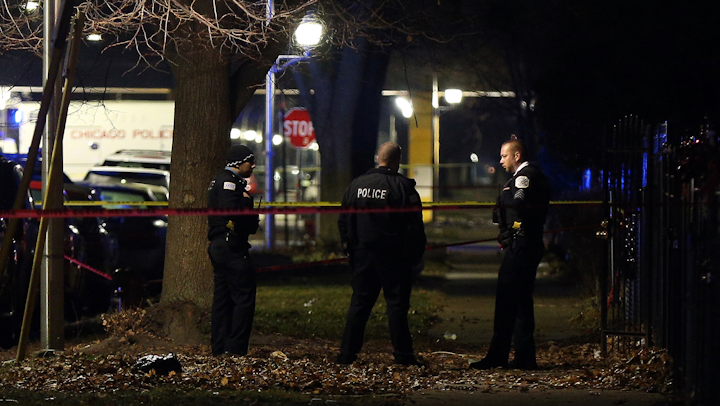 Terrence Antonio James/Chicago Tribune/TNS
CHICAGO — Chicago police are questioning a person of interest after 13 people were wounded, four of them critically, during a shooting inside a large memorial gathering early Sunday in the Englewood neighborhood on the South Side, authorities said.
The shooting wounded more people than any other single shooting event in the city since at least 2013, when 13 people were shot in Back of the Yards, according to data gathered by the Tribune.
The violence began at about 12:40 a.m. at a house party commemorating the birthday of a man who died in a previous shooting. Someone at the party opened fire, sending 13 people to area hospitals, according to Chicago police.
The injured ranged in age from 16 to 48, and a 16-year-old boy was one of those in critical condition though it was later improved to "serious," said Fred Waller, who heads the patrol division for Chicago police.
Two people remained in critical condition as of Sunday afternoon, according to Officer Michelle Tannehill, a police spokeswoman: a 40-year-old man who'd been shot in the chest and was being treated at the University of Chicago Hospital, and a 21-year old man suffering from a gunshot wound to the back, who was at St. Bernard Hospital.
Two people initially were detained and questioned after the shooting, though only one of the two is thought to have fired shots, according to a law enforcement source familiar with the investigation. No charges have been announced.
The party was in honor of Lonell Irvin, a 22-year-old man fatally shot near the intersection of State Street and Ida B. Wells Drive during an attempted carjacking April 26 in the Loop, according to multiple people at the scene.
Authorities said Irvin was wielding his own gun when he attempted to carjack a man with a license to carry a concealed handgun, who police said grabbed his weapon from the glove compartment and shot Irvin in the head. Authorities at the time categorized the shooter, who likely was rear-ended in a ploy to steal his 2015 BMW, as the victim in the incident.
Waller said there was a dispute during the party and someone started shooting. Once people started running outside, video surveillance from a city police camera captured images of someone firing more shots outside the home.
A different person also was caught on surveillance video shooting at a vehicle, Waller said.
"From outside, definitely there was two different shooters," Waller said. "It looked like they were just shooting randomly at people as they exited the party."
Mayor Lori Lightfoot spoke to reporters outside the University of Chicago Hospital at 11 a.m. after visiting some of the victims being treated there, though she did not say how many people she met with or share details about their conversations. She was joined by Waller, in his second address to reporters in five hours, as both urged anyone with information to contact authorities.
"It's a terrible tragedy and frankly an act of cowardice," Lightfoot said. "People in that house know what happened and we urge them to overcome their fears and come forward with information."
She asked those who witnessed the shooting to go to www.cpdtip.com
"We can't normalize this kind of behavior and tragedy in this city," she said.
(EDITORS: STORY CAN END HERE)
Lightfoot said police got to the scene quickly and are working to uncover more from the scene captured on video. She also spoke about the city's ongoing violence, adding, "Solving disputes with a gun is never the right answer."
According to Tribune records, the last shooting with 13 or more people injured happened in September 2013 in the Back of the Yards neighborhood. Seven defendants were convicted in the Cornell Square Park shooting, the last of whom was sentenced in October of this year. Authorities said it was a "miracle" no one was killed in that shooting, during which at least one of the gunmen fired at a basketball court with an AK-47 rifle.
In Chicago, people grieving homicide victims have faced the added danger of perpetrators lurking nearby, ready to target a gathering of the deceased's loved ones. At a vigil in Chatham in January 2017, seven people, including a 12-year-old boy, were shot while paying respects to a woman slain in a shooting that same week.
Shootings at vigils or memorials often can leave wounded a large number of people since so many mourners are gathered in one place. After Sunday's shooting and the Cornell Square Park shooting, in which 13 people were shot each time, Tribune data show the next-highest number of victims in a single shooting was in 2017 when 10 people, including a brother and sister, were shot while visiting a Brighton Park memorial.
In that shooting, Adriana Williams, 27, and her brother, Michael Williams, 24, were killed and eight other people were wounded. The siblings' older brother, Willie Glover Jr., at the time, said: "They were just coming to pay their respects. You expect people to respect that."
However, a law enforcement source said the investigation into Sunday's shooting has not found evidence to suggest it was the result of rivals targeting the memorial party. Instead, it's possible an internal fight among acquaintances at the party turned violent, officials said.
Waller previously categorized Sunday's shooting as an "isolated" event, though it wasn't immediately clear if that meant it wasn't retaliatory or gang-related. The law enforcement source said early evidence, including the surveillance video, suggests it was some sort of personal disagreement among the gathered individuals rather than an external gang attack.
On May Street early Sunday, some women huddled outside the red crime scene tape still wore colorful shirts with Irvin's face printed above his birth and death dates. They expressed anger at how the party — which one woman said she spent hundreds of dollars to put on — was violently crashed by gunmen who were not invited.
"It was his birthday and they were just celebrating a memorial for somebody that passed away, and this is what they do," said a 29-year-old woman who declined to give her name, citing safety concerns. "Your kids can't grow up, you can't do nothing. This is what our life is going to be about."
The 29-year-old woman stood for more than an hour next to where she found one of her friends clutching her chest on the northwest corner of West 57th Street and May. She had been shot but was able to talk and, before she was loaded into an ambulance, asked that someone call her daughter.
It became difficult for residents on the block to keep track of all the gunshot victims. As the 29-year-old talked about her friend who was shot, another woman, who just finished talking about watching her male friend bleed from a gunshot wound on the stairs, let out a deep sigh and accused the woman of lying.
The 16th Ward alderman Stephanie Coleman said she was alerted to the shooting by about eight phone calls from residents on the block. She said there was chaos when she arrived, but she was also grateful to see so many people wanting to help. .
"I saw disappointment," Coleman told reporters Sunday morning. "I saw frustration. I saw fear. I saw lots of concerned neighbors getting to the bottom of it."
Terence Daniely, a 57-year-old who lives nearby, said he awoke to the sound of at least five gunshots. When he looked outside, it was as if the entire police district had swarmed the block, he said. With squad cars and ambulances clogging the street, some officers parked farther away and sprinted south toward the house where the memorial was held.
Daniely, who's lived on the block for about four years, said he hopes for stiffer penalties for gun offenders and more support for at-risk youth.
"It's so real, that lack of caring for life," Daniely said. "It's reckless, just reckless. How does it continually happen? When is it going to stop?"
Citywide, shootings and homicides are projected to drop by double-digit numbers for the third consecutive year, according to Chicago police data.
The 29-year-old woman was less optimistic that there was a solution to all the violence. She understood why her neighborhood was frustrated and felt police weren't helping, but she increasingly feels there's little authorities can do to stem the violence.
"Y'all can try your best to stay out here and watch these streets all night, but no matter how they do it, it's going to be multiple deaths, multiple shootings, innocent people getting shot," the 29-year-old said. "I cannot wait to leave Chicago."
Coleman said despite the gun violence Sunday, the 5700 block of South May Street was teeming with good people living in the graystone buildings. She said she had faith that 7th district Chicago police officers will work to protect the neighborhood this holiday season.
"I saw children out at 12:30 in the morning," Coleman said. "Could you only imagine? Children, out because it was just that much activity going on. We don't want this for our children, not on their Christmas break."
Community members, including Renee Collins, who said she makes it a point to be visible when gun violence happens in the neighborhood, walked the neighborhood early Sunday afternoon. Many others gathered outside the home, chatting amongst themselves.
"When I heard there was nice weather I prayed because I knew this would happen," Collins said, shaking her head.
Collins, who said she lives nearby, stopped near the home. She said she wants her neighbors to see a presence outside after a violent event like Sunday's so people know it's still safe.
"They have to know that somebody is watching that cares," Collins said. "This is Christmas. How dare these young men do this."
Tribune reporter Liam Ford contributed.
———
©2019 Chicago Tribune
Visit the Chicago Tribune at www.chicagotribune.com
Distributed by Tribune Content Agency, LLC.