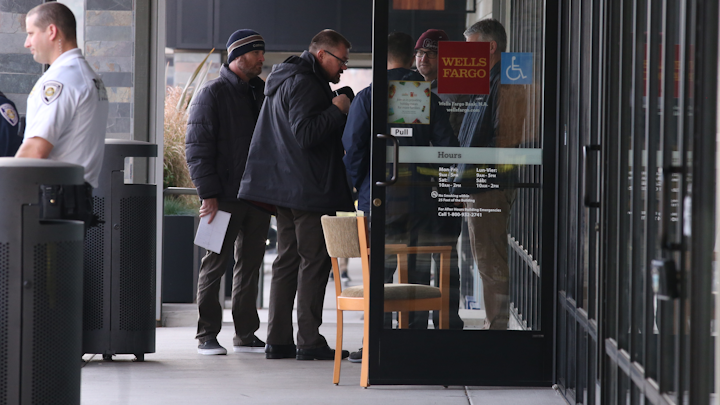 Beth Nakamura/The Oregonian
BEAVERTON, Oregon -- One person was killed in a series of stabbings Wednesday morning at and around a Beaverton bank, police say.
Officer Matt Henderson, a Beaverton police spokesman, said he thinks three people were stabbed. At last one of the stabbings occurred inside a Wells Fargo bank branch in the city's Murrayhill Marketplace.
The suspect stole a car after the stabbings and drove into the Tigard area, where he was apprehended, Henderson said.
No information about the circumstances of the stabbings has been released. It wasn't immediately clear whether the stabbings were part of a bank robbery.
Dillon Prickett said he pulled up to Insomnia Coffee Co., which is next door to Wells Fargo, and saw officers heading into the bank. A female employee was holding the door open for the officers.
"She looked at me, and she was crying," he told The Oregonian/OregonLive. "All of the mascara was coming down her face."
Prickett, a 35-year-old Aloha man, later saw a badly injured woman being brought out of the bank on a stretcher.
"She had so much bandaging on her face, it looked like an airplane pillow," he said.
The woman was loaded into an ambulance and taken away.
Noushin Luluvachi, of nearby Bella Salon, said police cars flooded the plaza and authorities ordered businesses to keep their doors shut. She said she has to open the door for each client at the salon.
"We don't know anything yet," she told The Oregonian/OregonLive on Wednesday morning. "There are tons of police cars here."
The bank and salon are part of the Murrayhill Marketplace, which also includes a Safeway and a mix of shops, restaurants and offices, including a Planet Fitness and Starbucks.
Yellow police tape lined one of the shopping center's large parking lots while more than a dozen law enforcement officers milled about behind it early Wednesday afternoon.
Just a few yards from the scene of the fatal stabbing, people continued with their afternoon activities.
Meanwhile, Wells Fargo, Insomnia Coffee Co., On Point Community Credit Union and Planet Fitness — businesses that run the length of one side of the shopping center — were closed.
This report will be updated.
-- Jim Ryan and Shane Dixon Kavanaugh
Noelle Crombie of The Oregonian/OregonLive staff contributed to this report
Subscribe to Oregonian/OregonLive newsletters and podcasts for the latest news and top stories.
———
©2019 The Oregonian (Portland, Ore.)
Visit The Oregonian (Portland, Ore.) at www.oregonian.com
Distributed by Tribune Content Agency, LLC.