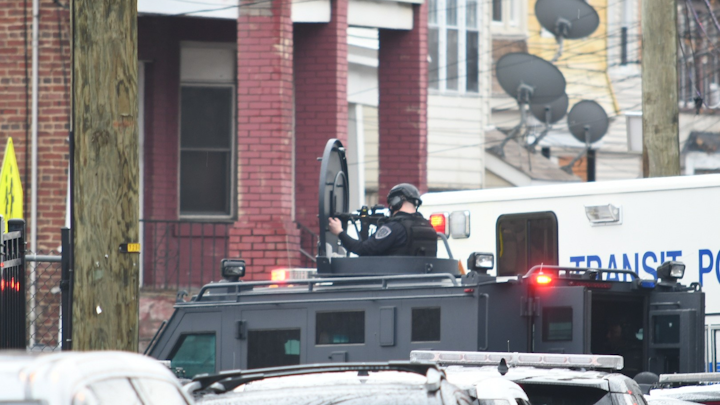 Joe Shine/Jersey Journal/TNS
JERSEY CITY, New Jersey -- The two Jersey City gunmen who left four dead, including a police officer, before they were killed in a gun battle with responding officers had targeted the Kosher market where they held their final standoff in, authorities said Wednesday.
"It was a targeted attack on the Jewish kosher deli," Jersey City Mayor Steven Fulop told reporters during a brief press conference Wednesday morning.
The revelation comes amid a report in the New York Times that one of the gunmen had published anti-Jewish and anti-police posts online.
Fulop and Jersey City Police Chief James Shea, the brother of NYPD Police Commissioner Dermot Shea, said neighborhood surveillance and CCTV cameras show the gunmen, who haven't been identified, zeroing in on the grocery at Martin Luther King Drive and Bayview Ave. Tuesday.
The duo had just shot and killed Jersey City Police Detective Joseph Seals in a nearby cemetery when they drove to the grocery, officials said.
"We could see the van move through Jersey City streets slowly," Fulop told reporters. "The perpetrators stopped in front of there, calmly opened the door with two long rifles – him and the other perpetrator – and began firing from the street into the facility."
"We now know this did not begin with gunfire between police officers and perpetrators and then move to the store," Shea said. "It began in the store."
The shooting drew a massive response with hundreds of shots being fired. When the smoke cleared, the two gunmen, as well as three innocent victims, were dead inside the grocery.
Brooklyn Borough President Eric Adams said that two of the three victims inside the grocery are from Brooklyn, with one having links to Williamsburg.
"I've just learned that two of the victims in today's #JerseyCity tragedy were natives of Brooklyn, one of them a current Williamsburg resident," Adams tweeted Tuesday night. "This news further sharpens the pain of this #massshooting for our Jewish community. We mourn together. May their memories be a blessing."
In light of the news that the Jersey City shop was targeted, the NYPD ramped up protection of Jewish houses of worship in the city, NYPD Police Commissioner Dermot Shea said Wednesday.
"The NYPD's mission, every day, is to keep people safe and to ensure they feel safe, as well," Shea wrote. "Today started with checking in on our friends in NYC's Jewish community, and thanking the hardworking @NYPDCT and @NYPDChiefPatrol cops we've deployed out of an abundance of caution."
———
©2019 New York Daily News
Visit New York Daily News at www.nydailynews.com
Distributed by Tribune Content Agency, LLC.