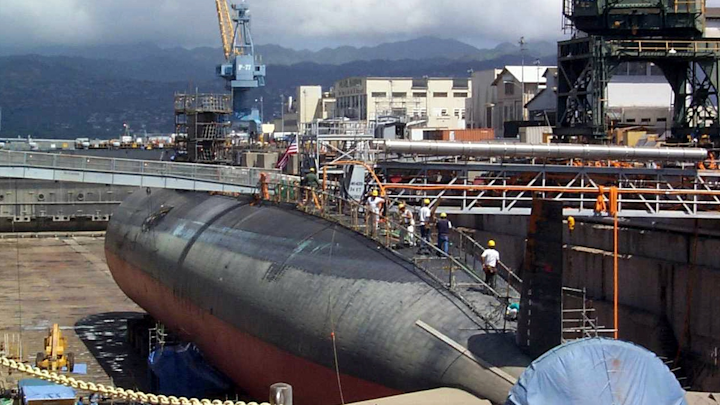 Tribune News Service
JOINT BASE PEARL HARBOR-HICKAM, Hawaii — A sailor killed himself after shooting two civilian workers to death and injuring another Wednesday at this Navy-Air Force installation on Oahu, the military said.
The shootings happened at Pearl Harbor Naval Shipyard's dry dock 2, and the victims were Defense Department employees, according to a statement from base public affairs.
Base security and Navy investigative services are investigating, the statement added. Victims' names will be released after families are notified.
The shipyard has been secured, officials said.
Queen's Medical Center in Honolulu was treating one patient, according to hospital spokesman Cedric Yamanake. He did not give details on that person's condition.
"Our thoughts go out to those affected by today's events," said a tweet of U.S. Army Garrison Hawaii. "Residents may continue to see increased military police as a precaution at Army installations."
The base went into lockdown for nearly two hours after the shooting, which officials said happened at about 2:30 p.m.
About 4:10 p.m., base officials tweeted that "gates and base access are now open. Standby for further information regarding the active shooter incident."
Honolulu Fire Department Capt. Scot Seguirant said firefighters responded to the base. Honolulu police and sheriff's officers also responded, according to the Incident Page Network.
Family members and others in need of support services have been asked to go to building 2, room 130, according to base public affairs. The Crisis Call Center can be reached at 866-525-6676 until further notice.
The Military Family Support Center will begin offering such services beginning at 7 a.m. Thursday, the officials said.
Pearl Harbor is home to the U.S. Pacific Fleet along with 10 destroyers and 15 submarines.
The shipyard is across the harbor from the Pearl Harbor National Memorial, which on Saturday will mark the 78th anniversary of the attack by Japan that brought the United States into World War II.
Wyatt Olson reported from Oahu. Caitlin Doornbos reported from U.S. Naval Forces Japan headquarters at Yokosuka.
Twitter: @CaitlinDoornbos
Twitter: @WyattWOlson
———
©2019 the Stars and Stripes
Visit the Stars and Stripes at www.stripes.com
Distributed by Tribune Content Agency, LLC.