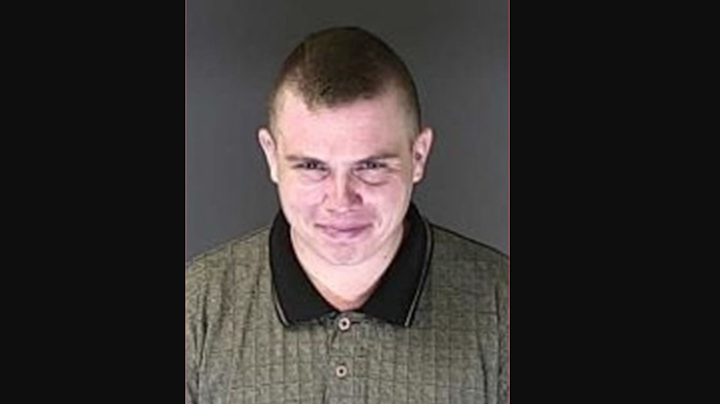 El Paso County Sheriff's Office
COLORADO SPRINGS, Colorado — A Colorado white supremacist plotted to bomb a historical Pueblo synagogue, before he was arrested Friday, federal officials said Monday.
Richard Holzer of Pueblo, a self-identified skinhead and former member of the Ku Klux Klan, was arrested late Friday and jailed in Colorado Springs after conspiring with undercover FBI agents, who he believed were fellow white supremacists, to blow up Temple Emanuel with 14 sticks of dynamite and two pipe bombs, according to investigators and court documents.
Holzer, 27, told the agents he planned to blow the synagogue up that night when no one was inside. If someone happened to be there, he would have continued with the attack "because anyone inside would be Jewish," court documents said.
He referred to the synagogue and Jews as a "cancer" to the community, court papers said.
The investigation into Holzer began in September after an undercover FBI agent claiming to be a female white supremacist contacted him on Facebook. Holzer repeatedly shared threatening, anti-Semitic messages on his pages and posted photos of him wearing clothing with anti-Semitic symbols while armed.
Toting white supremacy paraphernalia as gifts, Holzer met with the undercover agents on Oct. 17, at an unidentified restaurant in Colorado Springs. During the meeting, he continually repeated his hatred for the Jewish people, court documents said.
He told agents that on Oct. 31, 2018, he paid a "witch doctor" to hold a ritual in front of the synagogue and put arsenic in the water. He said he was planning to use arsenic again with the goal to "make them know they're not wanted here."
Investigators say the synagogue attack was only a part of Holzer's plan, and he told investigators a further step would be "bigger and better" and target areas outside of Pueblo.
Hours before Holzer was arrested Friday, he met with three undercover agents at a motel to examine the explosives, which he described as "absolutely gorgeous."
He planned to use the explosives about 2:30 or 3:00 a.m., he told them, to avoid the police.
Holzer was booked into El Paso County Jail on Saturday, said Jackie Kirby, spokeswoman for the El Paso County Sheriff's Office. She could not confirm if he was arrested in Colorado Springs.
Holzer, who lives in Pueblo, made his first court appearance Monday and remains in federal custody. It's not clear if he has a lawyer representing him.
If convicted, he faces a maximum penalty of 20 years in federal prison, U.S. Attorney Jason Dunn said in a Denver news conference Monday afternoon.
The Temple Emanuel synagogue is the second-oldest in Colorado and was completed in 1900, according to Temple Emanuel's website.
It has a congregation of about 30 families and a rabbi from Denver who travels to Pueblo twice a month.
———
©2019 The Gazette (Colorado Springs, Colo.)
Visit The Gazette (Colorado Springs, Colo.) at www.gazette.com
Distributed by Tribune Content Agency, LLC.