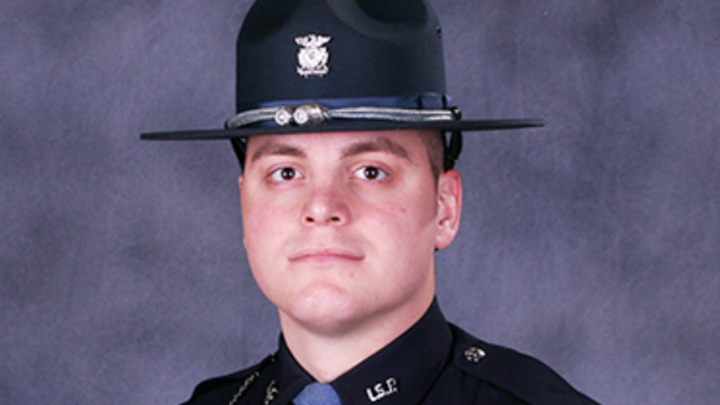 Indiana State Police
WINONA LAKE, Indiana — An off-duty Indiana state police trooper and two Winona Lake officers were credited with rescuing an 11-year-old boy who fell through the ice on a retention pond.
According to an Indiana State Police report, off-duty Trooper Jacob Bill was near the intersection of C.R. 325E and Wooster Road in Kosciusko County about 5:30 p.m. Friday in his marked squad car when he saw an officer with the Winona Lake Police Department drive through the intersection with his lights and siren on.
Bill and the responding Winona Lake officer stopped just past the intersection and ran to a retention pond where several adults were yelling, the report said. A child was seen about 25 yards from shore after having fallen through the ice.
Bill ran into the water and swam to the child. He was able to grab him by the collar and attempted to get him to shore, the report said. As Bill got closer to shore he got caught up in the broken ice so Winona Lake Officer Dave Swain entered the water to help Bill and the child. Winona Lake Police Officer Sgt. Joe Bumbaugh was then able to help from shore and get all three out of the water.
Once out of the water, the child was taken to Bumbaugh's truck to warm up and was then transferred to an ambulance and transported to a local hospital.
The boy was treated and released from the hospital, police said. Another child who had also been playing on the ice was able to get out of the water on his own before officers arrived.
Bill said he was glad to be in the right place at the right time, according to the report.
———
©2019 The Elkhart Truth (Elkhart, Ind).
Visit The Elkhart Truth (Elkhart, Ind). at www.elkharttruth.com
Distributed by Tribune Content Agency, LLC.