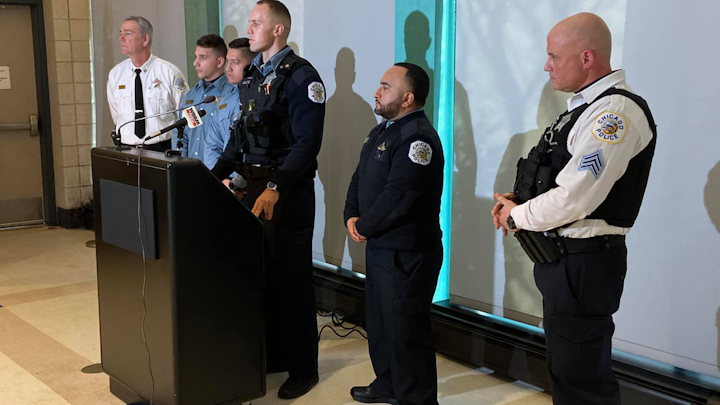 Chicago Police Department
CHICAGO -- Four Chicago police officers have been nominated for the Police Department's lifesaving award for their quick response to the shooting of a 15-year-old boy in West Lawn last week, officials said.
The officers were expected Tuesday morning to detail the events of Nov. 19, when they helped save the life of the teen who was shot about 12:45 a.m. in the 7100 block of South Lawndale Avenue on the Southwest Side.
At the time, authorities said the 15-year-old was walking when he suddenly felt pain and realized he was shot. He was taken to Advocate Christ Medical Center in Oak Lawn in serious condition, officials said.
In a news release about the lifesaving award, the agency said four officers found the teen suffering from wounds to the back and chest. Using their training, the officers used a "chest seal" to control the teen's breathing and to slow the bleeding.
"They continued to keep the victim calm and awake," until paramedics arrived, according to the release. His condition later was stabilized at the hospital.
Officers Saul Avila, Juan Guerroero, Dawid Kasprzak and Ioannis Mitrogiannis were expected Tuesday "to speak about their quick actions that helped keep this teenage victim of gun violence alive," the news release said.
Their sergeant nominated the four officers for the department's lifesaving award.
kdouglas@chicagotribune.com
Twitter @312BreakingNews
———
©2019 the Chicago Tribune
Visit the Chicago Tribune at www.chicagotribune.com
Distributed by Tribune Content Agency, LLC.