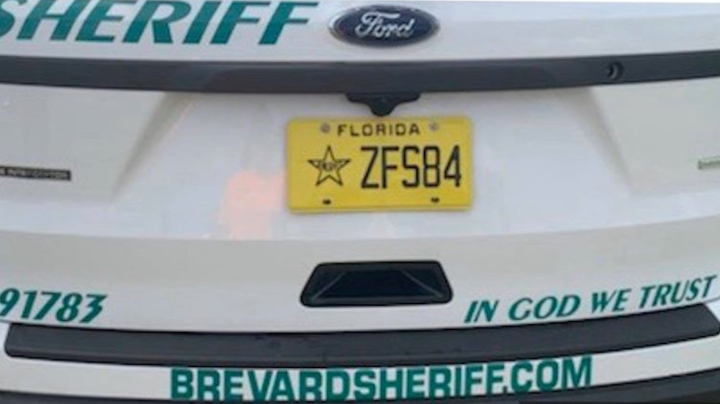 Brevard County Sheriff's Office
BREVARD COUNTY, Florida -- The sheriff of Brevard County is doubling down on the new "In God We Trust" decals affixed to his agency's patrol cars.
An organization that advocates for the separation of church and state called for the removal of the four-word phrase from the vehicles, according to media reports.
But Brevard Sheriff Wayne Ivey, in an interview with Fox News, rebuffed the request.
"They have a better chance of me waking up thin tomorrow morning than they do of me taking that motto off our cars," the sheriff said.
Ivey was responding to calls from the Freedom From Religion Foundation, which issued a statement urging the sheriff to remove what it called the "inappropriate and exclusionary" decals.
That statement came after the sheriff's office announced in an Oct. 27 Facebook post that the new fleet of patrol cars it would be rolling out over the next few years would feature new graphics including the American flag as well as the phrase "In God We Trust," which is the official motto of both the United States and the state of Florida.
The "patriotic graphics" are intended to "show just how proud we are of our country and the principles our great nation was founded upon!!" the post stated.
According to Florida Today, Ivey said the "In God We Trust" plan has the support of the community and that it won't cost the taxpayers anything.
Brevard County, on Florida's Space Coast, is home to Cape Canaveral and the Kennedy Space Center. The sheriff's office patrol vehicles already feature a space shuttle graphic, and the agency said that design will still be displayed prominently on the new vehicles.
Annie Laurie Gaylor is the president of the Freedom From Religion Foundation, which has more than 30,000 members, according to the foundation's website. She wrote: "Spending taxpayer time placing religious messages on patrol cars is beyond the scope of secular government.
"Further, in a time when citizens nationwide are increasingly distrustful of law enforcement officers' actions, it is frightening and politically dubious for the local police department to announce to citizens that officers rely on the judgment of a deity rather than on the judgment of the law."
———
©2019 the Sun Sentinel (Fort Lauderdale, Fla.)
Visit the Sun Sentinel (Fort Lauderdale, Fla.) at www.sun-sentinel.com
Distributed by Tribune Content Agency, LLC.