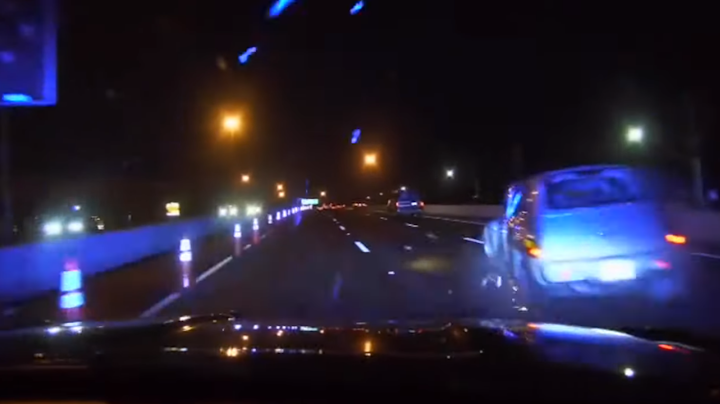 Florida Highway Patrol
CLEARWATER, Florida -- A Royal Palm Beach-area woman was charged with violating the state's "move over" law after she sideswiped a Florida Highway Patrol cruiser in Clearwater, FHP said.
According to a report, just before 9 p.m. Thursday, Janet Rankin, 75, was driving her 2004 Chrysler PT Cruiser along U.S. 19 when her front left end struck the rear right end of trooper Justin Bloom's patrol car.
The FHP cruiser was slowly driving north up U.S. 19 as part of a construction-related lane closure. Bloom, 31, had activated his blue emergency lights and the roadway's left shoulder was blocked by cones and yellow directional lights, according to the report and dashcam video provided by FHP.
The video shows Bloom's car stationary at first; just as it moves into the left lane, the cruiser slams into its side, amid sparks and flying metal. Bloom is seen grunting in surprise and shouting expletives.
"You OK?" someone one a cellphone says as the video shows the PT Cruiser sliding to the right shoulder and stopping, and the FHP car pulling up behind it. The trooper gets out and is heard asking if Rankin is OK; she says she is.
Both motorists were taken to area hospitals and were treated for minor injuries, the report said.
A call Friday to a phone number listed for Rankin was not returned.
The "Move Over Law," instituted in 2002, requires motorists to move out of the lane closest to an emergency vehicle or, if that can't be done safely, to slow to 20 mph below the posted speed limit. Citations draw fines, "points" and court fees.
In 2018 alone, the Florida Department of Highway Safety and Motor Vehicles listed 231 crashes and almost 17,000 citations related to "Move Over."
———
©2019 The Palm Beach Post (West Palm Beach, Fla.)
Visit The Palm Beach Post (West Palm Beach, Fla.) at www.palmbeachpost.com
Distributed by Tribune Content Agency, LLC.