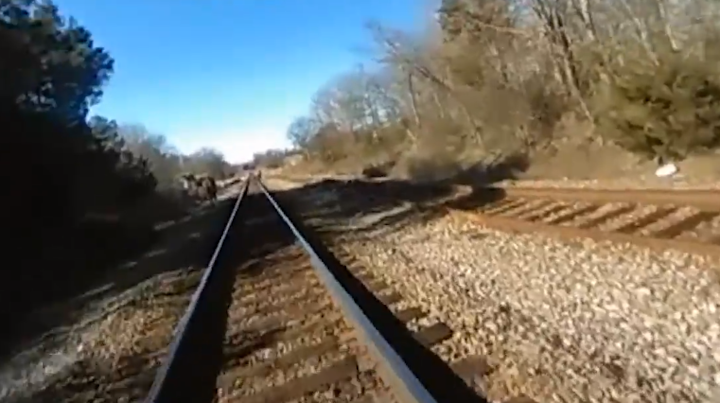 Polk County Police Department
POLK COUNTY, Georgia -- A Polk County police officer is in the hospital with six broken ribs after being hit by a train last Tuesday while chasing a burglary suspect.
Officer Andy Anderson responded to a burglary at a home on College Street near Rockmart about noon, police Chief Kenny Dodd told AJC.com. 
The home backs up to the railroad tracks, and when Anderson looked outside, he saw a man carrying a television away, Dodd said.
"The guy took off toward Piedmont Avenue and there was a train coming," Dodd said. "(Anderson) heard the train whistle but he didn't realize he was so close to the track. The train hit him on the right side of his body."
Anderson, who has worked for the department for 16 years, suffered six broken ribs, a broken elbow, a broken shoulder bone and a concussion, Dodd said from the hospital.
The burglary suspect was identified by police as 18-year-old Jayden Moates. He remains at large. His suspected getaway driver, identified as 46-year-old Nancie Borders, stayed at the scene and was arrested, authorities said. 
Police said Moates stacked the stolen items on the track behind the home before running back inside to grab more things. He was interrupted when a woman who lived there returned home during the burglary and called police, authorities said. 
The getaway car, Dodd said, was parked about 300 yards away at a pizza restaurant. 
Borders is charged with being a party to a crime, criminal trespass, possession of methamphetamine and possession of marijuana. She remains held at the Polk County Jail without bond, records show.
Anyone who knows Moates' whereabouts is asked to call Polk County police. 
In other news: 
———
©2020 The Atlanta Journal-Constitution (Atlanta, Ga.)
Visit The Atlanta Journal-Constitution (Atlanta, Ga.) at www.ajc.com
Distributed by Tribune Content Agency, LLC.