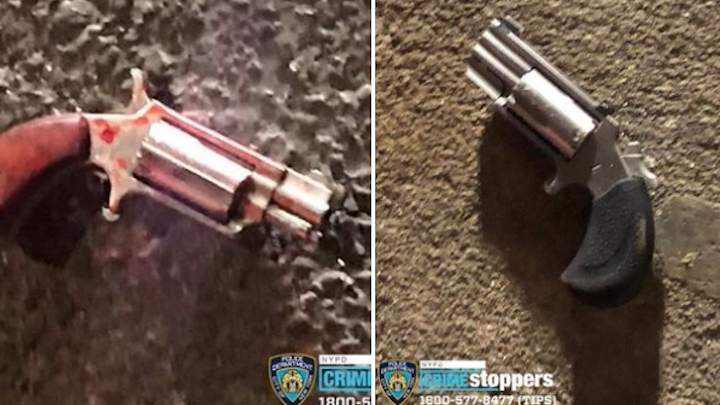 New York Police Department
NEW YORK -- Police shot dead a parolee moments after he fatally shot a gunman in the East Village early Thursday, officials said.
Body-worn camera footage from the two uniformed cops involved shows one of the gunmen not complying with commands to drop his weapon during the 3:30 a.m. confrontation at Avenue A and E. 7th St. just outside Tompkins Square Park, authorities said.
"He refused," NYPD Chief of Department Terence Monahan said. "He kept on walking. This is based off a body-worn camera."
The two officers, assigned to the 9th Precinct, fired three times, striking and killing gunman, Earl Facey, an ex-con who did prison time for his role in a prior shooting in Brooklyn.
The officers were patrolling the park when they heard shots being fired, Monahan said. Sources said Lacey and Reid, both gang members with multiple arrests on their records, didn't know each other and had gone to the hookah bar nightclub with several friends.
At some point, one of Lacey's friend's got into an argument with one of Reid's friends. The bouncer ejected both groups but the fight continued outside with Lacey and Reid facing off. Lacey shot Reid from a close distance, sources said.
"The two officers immediately exited the park and tactically approached the location, where the observed a man shooting another man," Monahan said. "The two officers engaged the armed suspect and gave numerous commands for him to get on the ground. It was then that the officers fired approximately three times at the man, striking him."
One officers fired one shot and the other fired twice, sources said.
Two five-shot .22 caliber revolvers were recovered — one under Facey and the other near the body of the man he killed, Richard Reid, 41, police said.
Facey was rushed to Bellevue Hospital but could not be saved.
This morning's police-involved shooting is another example of the bravery demonstrated by NYPD officers every day. When two suspects shot at each other, our cops put themselves in harm's way by running toward the danger.

Photos of the suspects' guns, recovered at the scene: ⬇️ pic.twitter.com/f9HKRqppa4

— Commissioner Shea (@NYPDShea) January 9, 2020
The cops, who tested negative for alcohol, were not hurt. They both joined the NYPD four years ago.
Residents were stunned.
Kevin Robinson, 54, a restaurant worker, thought the crime scene was a movie set since flyers had been handed out Wedensday about a film being shot in the area.
"Stuff like that never happens here," he said. "That's so terrible."
Monahan said the shooting "underscores the courage our cops show every day as they run toward danger."
Source said Reid, who lived in Brownsville, was a Crip with 14 arrests on his record. He had connections to two previous shooting, sources said. He was a person of interest in a March 31, 2019, non-fatal shooting in Bedford-Stuyvesant and was a witness in another shooting, also not fatal, on Jan. 3, 2017, on the Lower East Side.
Facey, a member of the Insane Gangsta Crips who lived in East Harlem, had an even worse record, sources said.
He had been arrested 21 times and served almost seven years in state prison for gun possession before he was paroled in August 2017. He was also considered a suspect in a Sept. 28, 2008 shooting in East Flatbush and a April 3, 2008, murder in Flatbush, sources said. Facey was also shot once before, in Crown Heights on May 1, 2004.
With Esha Ray
———
©2020 New York Daily News
Visit New York Daily News at www.nydailynews.com
Distributed by Tribune Content Agency, LLC.