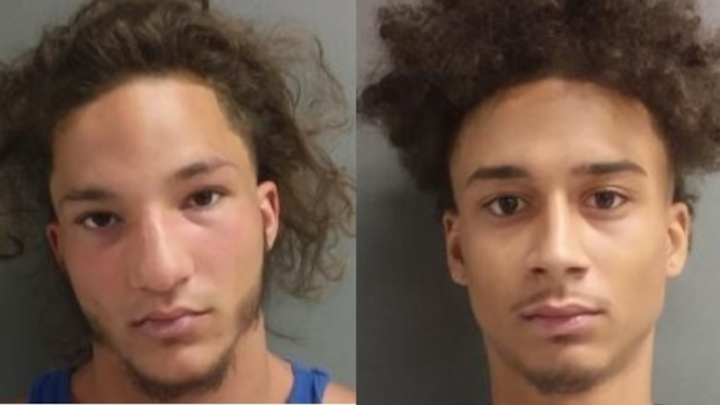 Volusia County Sheriff's Office
DELTONA, Florida -- A vehicle with multiple bullet holes in it stopped by a deputy on patrol after running a red light in Deltona was occupied by two Orlando men who had loaded guns and ski masks, officials said.
As deputies worked the traffic stop they learned that the vehicle was being sought by Orlando police in connection with a homicide, but that police agency later ruled out the vehicle, said Volusia County sheriff's spokesman Andrew Gant.
However deputies continue to investigate to determine if the car is connected to other cases, Gant said.

A 12-year-old boy was also found in the vehicle that was stopped in Deltona at 3:38 a.m. Monday, sheriff's investigators said.
Leverett Smith, 18, the driver of the vehicle, was arrested and charged with unsafe storage of a firearm, grand theft of a firearm and contributing to the delinquency of a minor. Smith is out of jail on $3,500 bail, court records show.
Also arrested was Trey Anderson, 18, who had a Seminole County warrant for his arrest for probation violation for burglary and grand theft. Volusia deputies charged Anderson with giving a false name upon arrest, carrying a concealed firearm and display/cause/permit be displayed/altered driver's license. Anderson was being held in The Volusia County Branch Jail without bail on Tuesday.
Deputies said the black four-door Kia driver by Smith ran a red light at the intersection of Saxon Boulevard and Finland Boulevard and was pulled over.
A deputy saw Anderson grabbing his left pants legging so a pat down led to the discovery of .45-caliber Glock 21. Anderson' pants were so tight that it had to be cut to retrieve the pistol, deputies said.
Deputies described the firearm as unique, having "American Heroes" etched on the side of the slide with a Maltese fire cross and a law enforcement emblem, a report notes.
Deputies didn't find any record of the handgun and Gant said on Tuesday that it was unknown if the firearm belonged to a police officer.
While investigating, deputies discovered that the car, which gave off a strong odor of marijuana from its interior, was full of bullet holes on the outside. A search of the car revealed several black ski masks and a .380-caliber Glock 42 reported stolen out of Osceola County, deputies said.
The Department of Children and Families took custody of the 12-year-old boy after his mother said she didn't have transportation to come get him, deputies said.
———
©2019 The News-Journal, Daytona Beach, Fla.
Visit The News-Journal, Daytona Beach, Fla. at www.news-journalonline.com
Distributed by Tribune Content Agency, LLC.