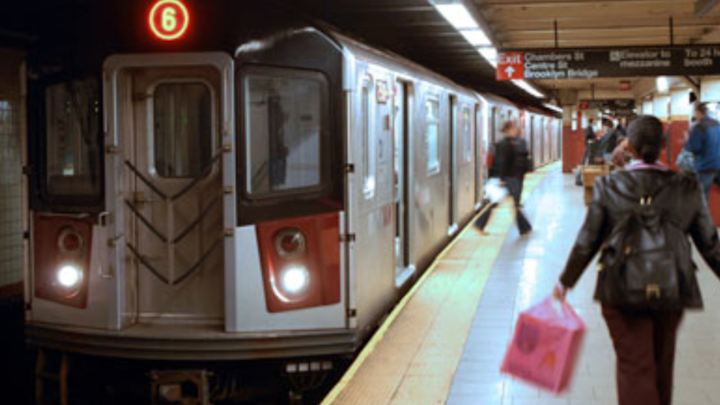 Metropolitan Transportation Authority
NEW YORK -- No crime is too sweet for the NYPD.
A churro saleswoman was arrested at the Myrtle-Wyckoff station Monday morning after police caught her slinging a cart full of deep-fried, sugar-coated sweets — the second controversial confectioner that cops cuffed in just three days.
Police said officers asked the woman to leave the station at around 11:40 a.m. because she did not have a license to sell food.
The cops began to issue her a summons, but arrested her after learning she had two warrants for failing to appear in court for two previous summonses for selling food without a license, according to police.
Officers drove the woman to Queens Criminal Court to see a judge about her warrants — but no one was available to hear the case because it was Veterans Day.
Cops held her overnight so she could be taken to court on Tuesday morning.
Rafael Martinez, who lives in Ridgewood, Queens near the subway station, witnessed the churro vendor's arrest, and said she's been selling snacks at the station for at least two years.
"From what I can gather she was very confused as to why she was being arrested," said Martinez. "She never bothers anybody. I've seen cops who are routinely around that station even buy some [churros] from her."
The woman's arrest comes three days after police detained another churro saleswoman and seized her merchandise at the Broadway Junction subway station, which sparked outrage from advocates and elected officials who believe a churro crackdown is a poor use of police resources.
That vendor, Elsa, who declined to provide her last name, joined politicians and advocacy groups on Monday for a rally outside of the station where she was arrested to protest the cops' activity.
"I wasn't doing anything wrong," Elsa said through a translator. "They took everything away from me. They made me feel like a burro, like I didn't know anything."
Public Advocate Jumaane Williams said people should have sympathy for those who have to sell churros in the subway to feed their families.
"To the folks who keep pushing back and speaking about how she had 10 summonses and she was doing something illegal: just shut up," Williams said.
Police said Elsa has received 10 summonses in the last five months for selling churros without a license — and public NYPD data shows those violations account for one-fourth of the 40 summonses cops issued to unlicensed vendors during the first 10 months of 2019.
In fact, the NYPD has drastically reeled back on accosting unlicensed vendors across the city since Mayor de Blasio took office.
Cops issued just 20 summonses for the violation in all of last year, the NYPD data shows. That's way down from 494 summonses given to unlicensed vendors in 2017, and less than 3% of the 835 summonses issued in 2016.
For comparison, the NYPD issued 9,005 summonses for unlicensed vending in 2006 and 3,905 in 2013, Mayor Michael Bloomberg's final year in office.
The number of summonses dipped to 1,108 during de Blasio's first year at the helm.
De Blasio on Monday defended the cops who handcuffed Elsa on Friday — and was quick to distinguish her arrest the NYPD's "stop and frisk" tactics that he has repeatedly denounced.
"I want to get to a day where that kind of action is not necessary," said de Blasio. "The facts are she was there multiple times and was told multiple times that's not a place you can be and it's against the law and it's creating congestion and she shouldn't have been there."
With Shant Shahrigan
———
©2019 New York Daily News
Visit New York Daily News at www.nydailynews.com
Distributed by Tribune Content Agency, LLC.