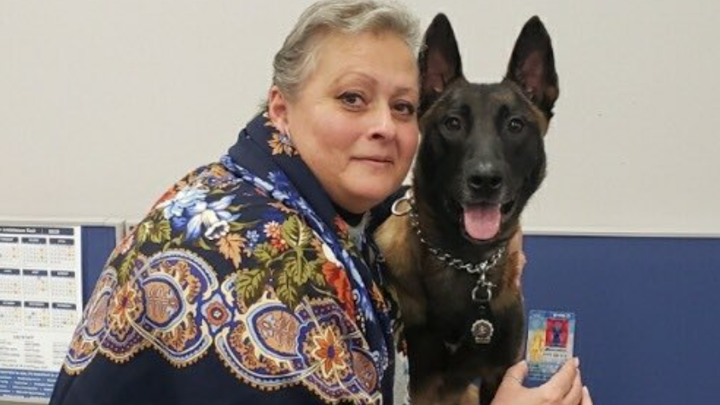 New York Police Department
NEW YORK -- This brave pooch is carrying on an important legacy.
The NYPD's furriest new recruit has been embraced with open arms by the mother of late NYPD Det. Russel Timoshenko, who the dog is named in honor of.
Timoshenko was killed in the line of duty more than a decade ago. The dog, named Russel, is the newest member of the NYPD Emergency Service Unit's K-9 team.
The NYPD tweeted a picture of the slain officer's mother, Tatyana Timoshenko, welcoming the plucky pup to the force on the day the dog was issued an official department ID card.
Introducing ESU #K9's newest rookie Russel. Mrs. Timoshenko the mother of hero #NYPD Detective Russel Timoshenko poses with Russel as he picked up his new ID card. Russel is named in honor of her son who was tragically shot & killed in the line of duty in July 2007. #NeverForget pic.twitter.com/lUaHfHAV4Z

— NYPD Special Ops (@NYPDSpecialops) October 19, 2019
Timoshenko was killed in July 2007 in Crown Heights after pulling over a stolen BMW with three men inside who opened fire.
Lee Woods and Dexter Bostic were convicted of murder for the hero cop's death.
Many of the NYPD's K-9 members have been named after officers who lost their lives in the line of duty.
"There is so much more meaning than a name," NYPD Commissioner James O'Neill said last year, explaining the practice.
"Each time that a handler answers that question — 'What's your dog's name?' — they will have another chance to tell the story of sacrifice, courage and service."
———
©2019 New York Daily News
Visit New York Daily News at www.nydailynews.com
Distributed by Tribune Content Agency, LLC.