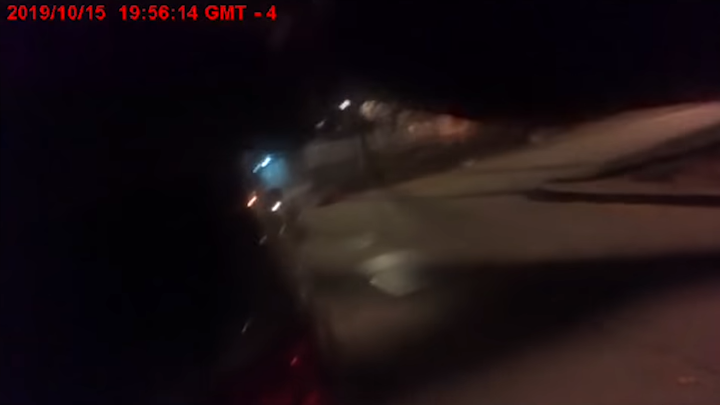 New York Police Department
NEW YORK -- The NYPD on Friday released body camera footage of the chaotic October police shooting that left an ex-con dead in a barrage of bullets.
Police say Nasheem Prioleau, 30, was firing at another man outside the Gowanus Houses on Oct. 15, before he was fatally shot by two 76th Precinct anti-crime officers who confronted the gunman.
The dark and shaky body camera footage shows Officers Henry Neumann and Matthew Schmalix racing to the scene on Baltic Ave. near Hoyt St. in their patrol car.
"Get the f--- down!" Neumann yells out, as he takes cover between two parked cars. "Drop it!"
"Let me see your hands!" Schmalix yells four times. Prioleau, clad in a red hoodie, can be seen in the 10-minute video lying on his back.
Both Neumann and Schmalix then loaded a second clip into their weapons and fired a total of 31 bullets, police said.
Nasheem Prioleau fired seven times, though it wasn't clear how many he fired at cops and how many he fired moments earlier when he was shooting at his rival, authorities said.
Prioleau, an alleged Bloods gang member nicknamed "Trigger," died at Brooklyn Hospital the next morning. Police said they recovered his .9mm pistol from underneath his body after the shooting. Neither officer was injured.
Prioleau had been released from prison five days earlier after serving five years for attempted robbery.
His mother, Lashann Tyre, 51, acknowledged her son's criminal history but at the time questioned whether police were justified in shooting him.
Prior to the shootout, Prioleau was captured on surveillance video leaving a building on Baltic Ave., then confronting his rival inside a white SUV. When the man drove off, Prioleau shot at him, police said.
The NYPD has not yet ruled if the officers acted within department guidelines governing the use of deadly physical force.
———
©2020 New York Daily News
Visit New York Daily News at www.nydailynews.com
Distributed by Tribune Content Agency, LLC.