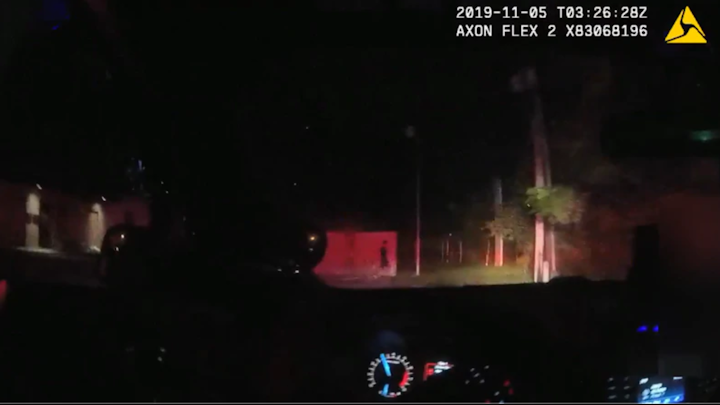 Altamonte Springs Police Department
ALTAMONTE SPRINGS, Florida -- Body camera footage released Thursday by the Altamonte Springs Police Department showed a man drowning in a retention pond after fleeing officers the evening of Nov. 4.
Cristian Milian, 19, can be heard saying "I can't swim," "I need help" and "I can't breathe" as officers watched from the shore and one officer encouraged him to "come back this way."
The footage captured minutes of Milian yelling for help before going quiet and bobbing underwater as officers deliberated onshore. After a few minutes, an officer goes into the water, but can't find the man.
A dive team recovered Milian's body the morning of Nov. 6, following days of searching.
ASPD released two sets of footage. One came from the bodycam of an officer who was one of the first to arrive on scene and remained on shore shouting commands to Milian. The other footage showed an officer running to the scene and shortly afterward removing his gear and jumping into the pond while his camera filmed from the ground.
Milian was driving a stolen car when officers tried to apprehend him and his passengers in the parking lot of a Wawa at 919 W. State Road 436. He ran from the car and officers pursued him to 950 Calabria Drive, a fenced property abutting a retention pond. Milian attempted to flee officers by entering the pond.
In the first video released, the officer told Milian to swim back toward shore after Milian said he could not swim. The officer offered to go in after Milian, but another officer told him not to.
After Milian can be heard gasping for air, a third officer said, "Can't let him drown" before removing his gear and wading into the pond.
Officers observed Milian going underwater as they directed the officer in the water to Milian's location from the shore.
ASPD's statement acknowledged the risk taken by the officer who swam after Milian after watching him struggle and the additional efforts of the underwater rescue teams.
"The danger posed by entering the water in pursuit of a fleeing felony suspect is a great risk for our officers to take," ASPD spokeswoman Michelle Sosa said. "Officers did risk their own lives in an attempt to save Mr. Milian's.
"Mr. Milian's decision to flee from officers and enter an unknown body of water at night ultimately resulted in his death," Sosa said. "The Altamonte Springs Police Department believes any loss of life is tragic and our heartfelt condolences go out to the family of Mr. Milian."
———
©2019 The Orlando Sentinel (Orlando, Fla.)
Visit The Orlando Sentinel (Orlando, Fla.) at www.OrlandoSentinel.com
Distributed by Tribune Content Agency, LLC.