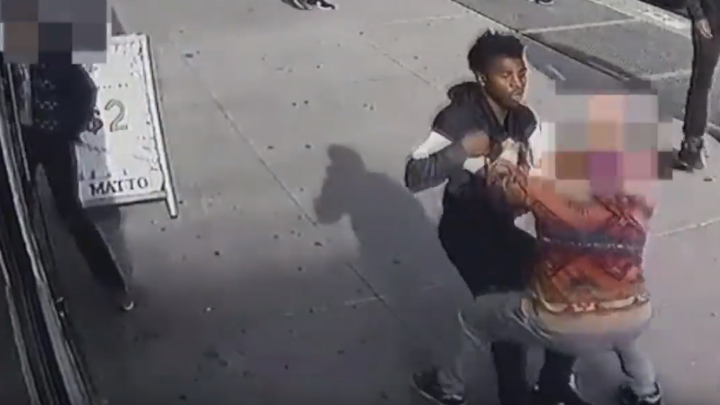 New York Police Department
NEW YORK -- An off-duty NYPD captain standing in line for coffee wrestled with a trio of brazen thieves after they swiped a tip jar from the counter of a Chelsea espresso bar, authorities said Sunday.
The chaos began when one of the crooks grabbed the tip jar from the counter at Matto Espresso on Seventh Ave. near W. 21st St. about 2:40 p.m. Friday.
That's when Capt. Arsenio Camilo, in line for some caffeine, jumped in to stop him. Camilo is executive officer of the 10th Precinct, which covers Chelsea.
Video released by cops Sunday shows the thief stumbled out of the door of the java shop as he wrestled with Camilo.
The officer, refusing to let his grip on the bandit go, was dragged several feet down the sidewalk before falling to the ground — still without letting go of the suspect. The crook soon tumbled down on top of the officer as they continued to grapple each other.
One of the robber's two accomplices tried to pull the pair apart, with the other accomplice eventually joining in, the video shows.
Camilo finally lost his grip on the robber, who ran off with his two pals and the tip money.
Workers hadn't yet counted their tips so cops couldn't say how much was taken.
Police are asking the public's help identifying and tracking down the three suspects.
Anyone with information is asked to call Crime Stoppers at (800) 577-TIPS. All calls will be kept confidential.
———
©2019 New York Daily News
Visit New York Daily News at www.nydailynews.com
Distributed by Tribune Content Agency, LLC.