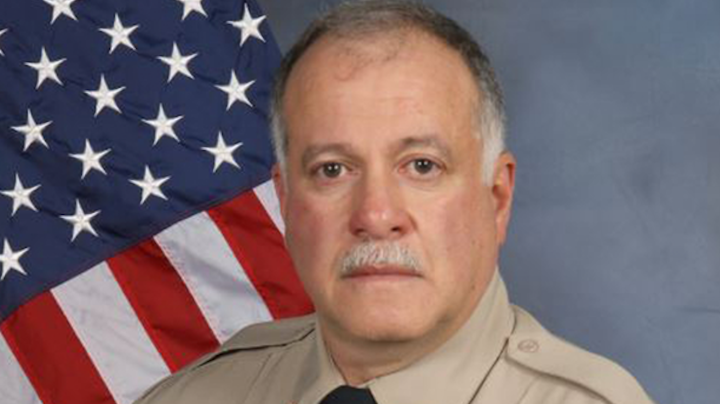 Gwinnett County Sheriff's Office
GWINNETT COUNTY, Georgia -- A retired Gwinnett County sheriff's deputy was killed Wednesday night after police said he tried to stop a robbery at the auto parts store where he worked.
Retired Sgt. Felix Cosme, 63, of Dacula, was fatally shot while reaching for his own weapon, according to Gwinnett police. He was dead when officers arrived at the O'Reilly Auto Parts location on Hamilton Mill Road near Buford about 7:45 p.m.
"Sergeant Cosme died a hero's death as he attempted to protect himself and a female co-worker," the Gwinnett County Sheriff's Office said Thursday in a Facebook post. 
A search is underway for the suspect. 
Investigators said the suspect parked his car in the store's parking lot and watched as a female employee helped a customer outside the store. The suspect then followed the employee inside.
"Once they got back inside, the suspect asked her to open the cash drawer," police spokeswoman Cpl. Michele Pihera said in a news release.
Cosme heard the commotion and walked in from a back room. He was armed with his own weapon, Pihera said. 
"The male employee attempted to pull his weapon when he was shot by the suspect," she said. "The victim died at the scene."
Cosme came to the sheriff's office in April 2006, according to the agency. He served in jail administration until his retirement in November 2015.
The suspect was last seen driving toward I-85, according to police. Investigators are working to get a good description of him.
"We do have that female employee, who we hope is a good witness," Pihera told Channel 2 Action News from the scene. "Next we will see if they had surveillance cameras and if they were working properly to give us a good description."
Anyone with information is asked to come forward. Tipsters can remain anonymous, and be eligible for rewards of up to $2,000, by contacting Crime Stoppers Atlanta at 404-577-8477, texting information to 274637 or visiting the Crime Stoppers website.
— Please return to AJC.com for updates.
———
©2020 The Atlanta Journal-Constitution (Atlanta, Ga.)
Visit The Atlanta Journal-Constitution (Atlanta, Ga.) at www.ajc.com
Distributed by Tribune Content Agency, LLC.