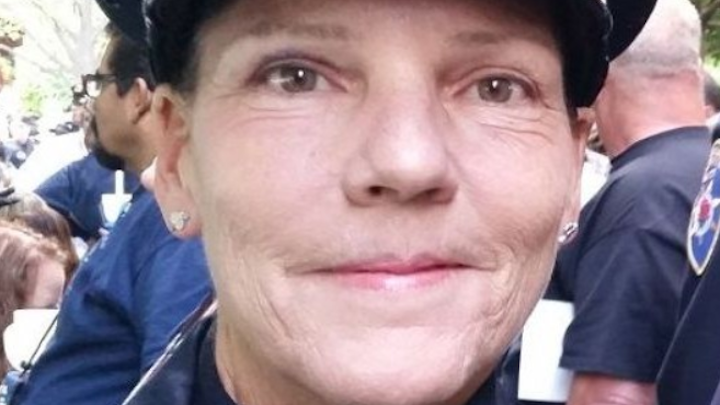 Bellefontaine Neighbors Police Department
ST. LOUIS COUNTY, Missouri — The cause of a Bellefontaine Neighbors police officer's death in 2015 had long been blamed on a driver distracted by her cellphone.
Sgt. Peggy Vassallo was struck and killed Aug. 24, 2015, while helping a driver she herself had just rear-ended while on the way to work in morning rush-hour traffic on Lindbergh Boulevard near the old Jamestown Mall.
Six months after the crash, prosecutors charged the driver, Latonia Waites, saying she was distracted by her cellphone when she hit Vassallo with her Ford Fusion. Waites was charged with second-degree involuntary manslaughter, a felony that could have sent her to prison for up to four years.
Days after the plea, Bell's office released a statement reversing the initial account about distracted driving and calling Vassallo's death an accident and a "horrible tragedy."
Bell's statement offered key revelations, including that "exhaustive investigations" by his office and St. Louis County police blamed the crash on intense morning sun glare, and that Waites could not have been distracted by her cellphone because she hadn't used it for three minutes and 43 seconds before the crash — an estimated 2 miles from the scene.
However, police reports recently obtained by the Post-Dispatch — including a detailed forensic examination of Waites' cellphone — show Waites made a call, created and deleted texts, snapped screenshots, opened a prayer application, pulled up a website, checked Facebook and activated Siri in the moments before the crash. Some of those actions occurred within the window of time Bell's office said she wasn't using her phone.
To this day, questions remain as to why Bell's office provided an account that is undercut by the findings of the forensic examination.
Vassallo, who was married, grew up in a police family and was the daughter of a longtime St. Louis police lieutenant, Edwin J. Kaelin. In 1974, the then-13-year-old and her father were scavenging for a Christmas tree on a family estate near Florissant when they found the remains of two murdered RadioShack workers abducted weeks before. The discovery led her to a law enforcement career.
Exactly one minute before the crash is the last verified user-generated action on Waites' iPhone, the police examination said. It's unclear from police reports if three subsequent actions, the last of which triggered Siri, the phone's digital assistant, was done by Waites or the phone itself.
"I was saying a prayer for one of my church members," Waites told a detective within 30 minutes of the crash. "I looked down for just a second and it was a few cars that had come to an abrupt stop, and I tried to stop but to keep from hitting the vehicle, I swerved around, but when I swerved around, the officer was running across the street."
"And I couldn't slow down enough, so I struck her," she said, sobbing. "I hit her, and that was it."
Bell's statement in September said there was "no evidence of negligent or aberrant driving" by Waites, who "repeatedly stated that she never saw the victim because of the glare of the sun."
However, it's not clear where such an explanation came from. Though witnesses at the crash scene cited glare as a factor, there is no mention of Waites blaming the sun in police reports or in her only statement to police.
"We believe there was a good, just disposition in this matter," said Johnson, adding that Waites is "very distraught" over Vassallo's death and "wanted her prayers to go out to that family."
Bell was not available for an interview but his operations chief, Tim Swope, said that "legally, 60 seconds isn't much different than three minutes and 43 seconds." Swope could not pinpoint the origin of Waites' reported claim about sun glare but noted witness statements at the scene about the rising sun obscuring visibility for eastbound drivers.
"We just simply cannot prove that the defendant was on the phone at the time of the occurrence," Swope said, adding that several senior staff attorneys "felt it was more appropriate of guilty for the careless and imprudent driving."
The St. Louis County police investigation concluded Waites was going between 34 and 40 mph in a 45 mph zone when she hit Vassallo. Waites relinquished her cellphone and consented to blood and urine samples, which revealed no drugs or alcohol.
The deadly collision came after Vassallo had rear-ended another driver in her Jeep Grand Cherokee Laredo. Vassallo was standing in a right-turn lane and reporting the crash by phone to a dispatcher when Waites knocked her more than 80 feet down the road.
"Where is the accident at?" the dispatcher asked Vassallo, according to a transcript of the 911 call.
"Uh, let's see, uh, Old Jamestown and, um, Lindbergh in front of Jamestown Mall," Vassallo said.
"Old Jamestown and Lindbergh in front of the mall?" the dispatcher said.
"Uh huh," Vassallo said.
"And how many vehicles are involved?" the dispatcher said.
"Two. Oh my God!" (unintelligible sounds)
"Is anyone trapped in any of the vehicles? Hello? OK, we lost them. Old Jamestown and Lindbergh. We will get them out there ... Hello? Ma'am?"
Waites did not hit the brakes before striking Vassallo, the investigation revealed.
"Sgt. Vassallo observed Latonia's vehicle approaching, not slowing, and attempted to run to the shoulder of the road for safety when she was struck and killed," the police report said.
The forensic investigation also revealed that within 10 seconds after the crash, Waites was "rapidly exiting all open applications in order to call 911."
Cellphone-related crashes have climbed 35% since 2014, according to the Missouri Department of Transportation. Missouri is one of four states in the United States without a texting ban for all drivers, according to the Governors Highway Safety Association.
"These cellphone accidents are just as bad as people drinking and driving," said Vassallo's brother, Michael Kaelin, 69.
People like Waites should be given a second chance, he said, but that shouldn't include an investigative process that's "distorting the facts."
———
©2019 the St. Louis Post-Dispatch
Visit the St. Louis Post-Dispatch at www.stltoday.com
Distributed by Tribune Content Agency, LLC.