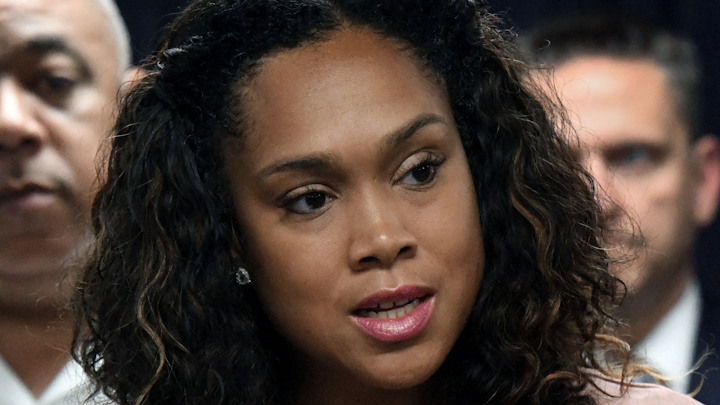 Kim Hairston/Baltimore Sun/TNS
BALTIMORE -- Baltimore State's Attorney Marilyn Mosby told a state policing commission that she has concerns about the integrity of more than 300 police officers and may not be able to put them on the witness stand, a claim downplayed by the department's head of internal affairs who said he stands behind the vast majority of those officers.
Mosby said Tuesday that she has forwarded her list of suspect officers to the department in hopes it will take action. The figure represents nearly 15-percent of Baltimore's 2,300 member force.
"We have 305 officers with integrity issues and or allegations of integrity issues that would in essence put them in jeopardy from testifying," Mosby told members of the state Commission to Restore Trust in Policing at a day-long meeting at the University of Baltimore Law School. The panel was formed to identify issues within the department that helped corrupt Gun Trace Task Force officers operate for years until they were caught and imprisoned by federal prosecutors in March 2017.
Brian Nadeau, a former FBI agent who joined the department in September as deputy commissioner in charge of the Public Integrity Bureau, which oversees officer misconduct investigation, told the commission that the majority of those officers do not have credibility issues and the list serves more as a tool for prosecutors. Nadeau said the state's attorney's office list can be used by prosecutors to flag what is known as Brady/Giglio material - information about an officer that could benefit the defense and therefore should be disclosed to defense attorneys.
Nadeau said he agreed that 22 officers on the list should not be called to testify, but only two of those officers remain with the department and both are undergoing an administrative review. Nadeau also said he doesn't know of any cases that have not been brought because of officers on the state's attorney's office list.
Nadeau said outside of those 22, nothing would preclude the rest of the officers from testifying or doing their jobs.
"Nobody on that list that I wouldn't have working on the street, making cases," he said.
But commissioner member and attorney Sean Malone questioned Nadeau about the number of officers on the list, saying "that's just a disturbing number."
Nadeau told the commission that he was not as concerned about the figure, saying that "quite a few" of the officers named were subjects of complaints that were not sustained.
When an officer is accused of wrongdoing, he or she is investigated by officers from internal affairs, who typically find a complaint sustained or not sustained. When cases are sustained, internal affairs investigators recommend discipline. Officers can accept the finding and any discipline or elect to go before a trial board, which can also recommend discipline, up to and including dismissal. Police Commissioner Michael Harrison has the final say.
Mosby's deputy, Michael Schatzow, told the panel that the state's attorney's office has a much broader policy on disclosing information to the defense than do other agencies, and that material that is passed on to attorneys isn't necessarily admissible in court.
Neither Mosby nor Nadeau provided a breakdown of the status of the 305 officers, including how many of them faced allegations that were sustained, or even say exactly how many still remained with the department.
Mosby said the list was intended to identify material that should be shared with defense attorneys, but also to alert the department of any possible issues with its officers.
"We also think its important for the police department to make a determination of what they are going to do with their employees," Mosby said.
She said the list is " fluid, something we update rather frequently" noting that it went from 183 names to 212 to the current list of about 305 since October.
During Nadeau's presentation, he also spoke about broader reforms the department is implementing to improve how internal affairs cases are handled, including an effort to reduce the time between when a complaint is launched to when an investigation is closed. He is hoping to see that gap drop from its current one year time frame to 90 days.
"The problem is the volume of cases," he said.
Nadeau said the department is seeking to transfer 11 new detectives into internal affairs, and train more officers. He said the department is also reforming its intake process, allowing less serious, more straightforward cases where the officer acknowledges wrongdoing to be processed more quickly.
Nadeau also said the department next year also wants to hire a research analyst to evaluate where the majority of internal affairs complaints originate. He hopes to determine if problems are found in a specific district or if there's a broader training issue, to help address those issues before they become complaints.
———
©2019 The Baltimore Sun
Visit The Baltimore Sun at www.baltimoresun.com
Distributed by Tribune Content Agency, LLC.