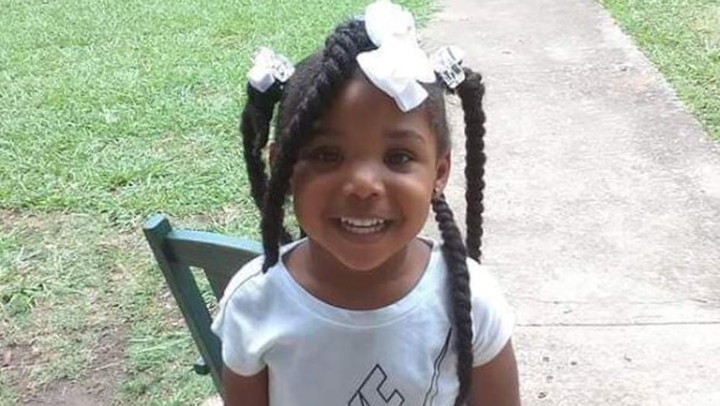 Family Photo
BIRMINGHAM, Alabama -- Remains believed to be those of Kamille "Cupcake" McKinney, abducted 10 days ago from a Birmingham birthday party, were recovered Tuesday night.
Birmingham police and FBI agents found the remains in a dumpster. The discovery may have capped a tragic end to a massive search that began Saturday, Oct. 12, and has kept the Birmingham-area community and beyond on edge ever since.
"This is a tough moment for this city. This is a tough moment for this family," said Mayor Randall Woodfin.
Police plan to charge Patrick Stallworth, 39, and 29-year-old Derick Irisha Brown with capital murder and kidnapping in Kamille's death, said Police Chief Patrick Smith.
Smith said police have not established any link between Stallworth and Brown and Kamille's family and addressed speculation of the family's involvement. Kamille's mother did not give interviews at the request of the police, Smith said.
"We did not see the benefit of throwing the mother in front of the camera," Smith said.
The day after Kamille's abduction, police arrested Stallworth and impounded his Toyota SUV after he was identified as a man seen in surveillance footage at an Avondale store near the time of Kamille's abduction. His Toyota Sequoia matched the description given by other children in the area at the time who said a man had been handing candy to kids at Tom Brown Village.
Stallworth has been charged with seven counts of child porn after police found images on his cell phone during the abduction investigation.
He was released of jail on $500,000 bond and was taken back into custody Tuesday night. Birmingham police returned to his rented Woodside Condominiums home Monday evening to carry out a search warrant of the condo, which has been padlocked by the owner.
Property management said police have been there almost every day, including over the weekend when they searched apartments that are now uninhabitable following an September fire there.
Brown remains held without bond after authorities filed a motion Tuesday to revoke her bond in a 2018 case in which Brown is accused of abducting her three children from DHR custody. Brown also uses the name Quentesa Jackson, and she and Stallworth are in a dating relationship.
Tuesday morning, a team of police officers stopped a white Nissan Altima after receiving a 911 call from a man who thought he spotted Kamille "Cupcake" McKinney inside the sedan on 19th Street in Irondale.
Police responded to the scene and then began a search for the vehicle. They found it a short time later on Crestwood Boulevard near the Irondale-Birmingham city limits.
Officers surrounded the vehicle only to learn that the driver had just dropped her own daughter off at daycare.
Less than two hours later, Birmingham police responded to a Center Point parking lot. A woman said she had tip for investigators regarding the ongoing probe into the Oct. 12 disappearance of the 3-year-old little girl who was last seen wearing a pink and leopard-print Minnie Mouse t-shirt and no shoes.
On day 10 of the search for Kamille, Tuesday's tips and reported sightings are among hundreds that have poured in. Still, there is no sign of the girl and no clear motive as to why she was taken in the first place, and where she could be after all this time.
Kamille vanished while at a birthday party in Birmingham's Tom Brown Village public housing community. Police on Friday released surveillance footage that showed two small children – one of them believed to Kamille – playing when one man walked past them.
Moments later, a man with a distinctive limp approached the children and they followed him out of the view of the camera.
Police said the man with the limp is a suspect in the case. They have not said whether they have identified or located him. They asked that the other man come forward as a witness in the case.
———
©2019 Alabama Media Group, Birmingham
Visit Alabama Media Group, Birmingham at www.al.com
Distributed by Tribune Content Agency, LLC.