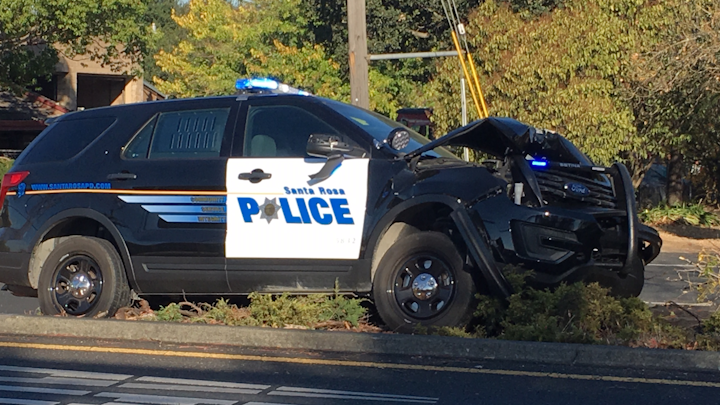 Santa Rosa Police Department
SANTA ROSA, California -- A Santa Rosa police officer was injured early Tuesday in a city crash involving a suspected hit-and-run driver.
The driver, a 49-year-old Graton woman, returned as officers investigated the Highway 12 crash in east Santa Rosa. She was arrested on suspicion of felony hit-and-run causing serious injury, Santa Rosa traffic Sgt. Summer Gloeckner said. Elizabeth Balchowsky, 49, was booked into Sonoma County Jail on $20,000 bail.
The crash occurred minutes before 8 a.m. near Middle Rincon Valley Road. A witness told police Balchowsky sped out of a driveway into the road's eastbound traffic, disregarding other drivers. She sped into the fast lane and the path of the police officer, then tried to swerve out of his way, Gloeckner said. The officer veered from her and ended up on the center median where the front end of his SUV hit a tree.
The witness said the woman pulled over, got out and appeared to check her car for damage, then got back in and drove off, Gloeckner said.
The officer radioed for help, saying he'd been in a crash and might have a head injury. Several 911 callers also alerted police to the crash and arriving officers found numerous people at the scene, several who'd stopped to help the injured officer from his car. There was no sign of a second driver, the sergeant said.
Officers issued a law enforcement alert to watch for the driver with reddish hair in a white hatchback. About an hour after the crash the woman showed up at the scene in a white Honda Fit. She initially denied being involved, then admitted responsibility, Gloeckner said.
The police officer was taken to the hospital, treated for moderate injuries and released. Police officials declined to release his name.
You can reach Staff Writer Randi Rossmann at 707-521-5412 or randi.rossmann@pressdemocrat.com.
———
©2019 The Press Democrat (Santa Rosa, Calif.)
Visit The Press Democrat (Santa Rosa, Calif.) at www.pressdemocrat.com
Distributed by Tribune Content Agency, LLC.