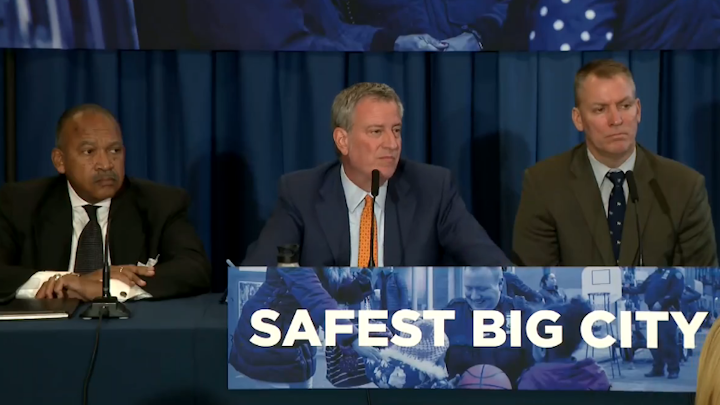 New York City Mayor's Officer
NEW YORK -- With just four weeks to go before the end of the year, the NYPD is facing a double-digit uptick in murders, making it the first time since 2017 that the city will end the year with more than 300 homicides.
By the end of November, the NYPD had investigated 299 killings this year — comparted to 275 during the same period last year, a 9% increase.
"It's simply not acceptable," Mayor de Blasio said. "Let me me clear: Everyone's doing their job and everyone is digging deeper to get under the skin of this and address it, but we are not going to accept this situation."
The number of shootings in the city also jumped, from 696 by this time last year to 720 so far this year, an increase of 3%.
De Blasio and newly minted NYPD Police Commissioner Dermot Shea discussed the numbers during a press conference at the New Settlement Community Center in the Bronx.
WATCH LIVE as @NYCMayor and @NYPDShea update New Yorkers on November's crime statistics.https://t.co/d8nwyAvPPe

— NYPD NEWS (@NYPDnews) December 5, 2019
"For much of the year, we actually had fewer homicides than at the same time last year," de Blasio said. "In the last weeks we've had some real challenges and we're going to address those challenges. And we will turn this situation around."
Despite the increase in homicides and shootings, overall crime in the city was down by just over 1% so far this year compared to the same period last year, officials said. There were also a 1% decrease in rapes, a 10% drop in burglaries and reductions in Housing and Transit crimes, officials said.
The number of robberies and assaults in the city, however, each saw a nearly 2% jump, statistics show.
Shea said that the city's violent crimes were being committed by a "small number of people."
"We have a lot more work ahead to address persistent crime conditions and the men and women of the police department will continue to rise to the challenge while working closely with those we are sworn to serve," Shea said.
There were 289 murders last year, which was three fewer than the 292 in 2017, lows the city hadn't seen since the 1950s.
———
©2019 New York Daily News
Visit New York Daily News at www.nydailynews.com
Distributed by Tribune Content Agency, LLC.